Create an Audience from Listen.
---
Admin
One of the first step to get started with Audience is to use our module Listen to discover profiles who mentioned your brand or product on Facebook, Twitter, G+ and Instagram.
STEP-BY-STEP: 

1. In Listen, select a project you would like to create an audience from.
2. Click Create Audience in the top right corner.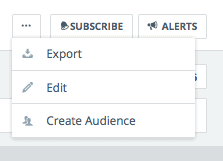 3. Give your Audience a name and select the topics to include.
4. Click Save and your Audience will be created.

From there, you can go to Audience to deep dive into the list and segment profiles by gender, network and much more.
Note: All new profiles mentioning your topic in Listen will be automatically synced with the Audience previously created - so it's just a one time setup.