Background: from queens to fortune #500
Henry Schein, Inc. started as a small family business back in 1932 – it was a pharmacy in Queens, New York opened by Mr. Schein himself with a loan of $500. Over 82 years later, Henry Schein now has operations or affiliations in 27 countries. It's a Fortune #500 Company (ranking #292) worldwide distributor of healthcare products and services to office-based dental, animal health, and medical practitioners. The company employs more than 17,000 Team Schein members and had €9.6 billion in sales in 2013. It's also a member of the NASDAQ 100 Index. In 2014, the organization was named a World's Most Admired Company by Fortune Magazine, as well as one of Ethisphere Institute's 2014 World's Most Ethical Companies.
If you're not a healthcare professional, you might not have heard of Henry Schein before reading this. That's definitely not because Henry Schein does a bad job marketing itself. The people at Henry Schein know exactly who their audiences are, and they produce relevant content to fit the needs of that audience.
[The original Henry Schein at work in his pharmacy in Queens, circa 1932]
Challenge: connecting in a "glocal" environment
The company has seen extraordinary growth over the years, but the needs to connect with customers across borders has remained constant. In Caroline's words:
"Henry Schein has gone more digital over the years… We started as a small store front, then transferred over to all personal sales over the phone or in person with our sales reps; and now we do more e-blast marketing and social".
It was a long journey, but today online marketing and B2B social media allow the company to reach out to and support their customers wherever they are in the world. Over time it became apparent that a suite of 'one size fits all' corporate social media accounts was not going to cut it for Henry Schein. Their customers needed a local, personal approach, for the following reasons:
Henry Schein's networks cater for different verticals (dental, medical, animal health), therefore it's crucial that the content and communications are tailored to each market.
The product range within each vertical varies based on geographic region.
Customer service can be better delivered in a local context, and ideally by the field sales agent with whom the customer already has a relationship.
Keeping local communities within a country allows the local marketing department to be aware of the laws and regulations aspect of healthcare marketing, which are specific in each region.
"Separating the online communities keeps the content flowing applicable to customers in those areas, and helps us maximise our workspace by utilising mobile, on-line applications."

Caroline Kretsch Interactive Marketing Specialist, Henry Schein
Results: engaging and supporting b2b communities
Henry Schein empowered local marketing teams to manage their 100+ social accounts. The management soon recognized that a core team of staff needed to be responsible for having a helicopter vision of outgoing content to ensure brand consistency, and report on successes. The Interactive Marketing Department was born and this team now has a broad view of content, ensuring all planned social media activities are aligned with the company's brand vision.
As in most industries working B2B (or even B2C) Caroline's team has found that simply sending out messages about their products doesn't nurture engagement. So content includes piggybacking on topical health events, such as skincare awareness over the Summer, to re-purposing news items that align with Henry Schein's opinions on related topics. Their local marketing departments ensure quality of content, and use the Falcon platform to schedule posts.
"Since multiple people work on the same channels at once, it helps to have Falcon to display when things are scheduled to post."
One of the core principles of Henry Schein is ensuring that practitioners are supported, which is an area largely unexplored by their competitors who are more focussed on direct sales. Henry Schein has carved the way for these industries on social by becoming a respected thought leader. Their communities are therefore full of customers actively reaching out for advice, giving feedback on Henry Schein's events, and networking. Customers are also linked with the social networks of their personal field sales consultants to enhance the offline relationships already established and trusted.
"We're promoting the idea that our field sales consultants have their own social pages… That way, customers can directly engage with the person they already work with. This helps them have access to Henry Schein outside of the 9-5 window."
Some final thoughts
Henry Schein has come a long way since the early days back in Queens, but it's good to see that, over 82 years later, social media allows them to extend that personal and local approach to a global audience.
In an industry in which communities are not necessarily active on social media for work, Henry Schein's teams are trailblazers. Their social networks are now a place for healthcare communities to dwell, share best practice and knowledge, and access product support on a local level. Of course, their success is dependent on staff commitment, a willingness from sales to connect on social media, and from globally dispersed marketing teams to communicate regularly.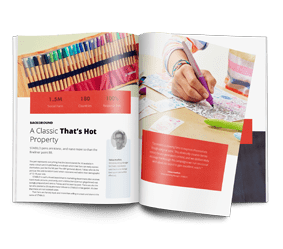 Build an Engaged Community
Learn how STABILO manage their social communities incl. almost 1 million fans.