Today, we officially launched Instagram Stories publishing from the Falcon platform. Our Director of Product Innovation & Partnerships, Mikael Lemberg, talks about what makes this a first in our space, and how it will be so valuable to people using Falcon.
Instagram Stories is the social landscape's hottest format. With more than 700 million active app users and 250+ million daily Story consumers, they have already won more eyeballs than Snapchat.
Brands and consumers love it and for good reason. Stories introduces an all-new level of playfulness and visual storytelling on a platform with a massive and growing audience. It has also proven to be a great way to boost engagement.
There is a catch though. Instagram's limited API (application programming interface) has mostly prevented scheduling  Instagram posts of any kind in content calendars.
This has been a big hindrance for social media strategies. Posting itself is only one piece of the puzzle in social media marketing success. What it takes for companies to excel on social is a good collaboration between teams, campaigns and channels, as well as consistent quality and branding.
So far, Instagram's API has only permitted native publishing from a mobile device logged into the brand's account. There have been workarounds available, but none of these has been able to support Instagram Stories.
Until now.
As we become the world's first social media marketing platform to support Instagram Story publishing. 
Give your visual storytelling more authority
Our solution is simple yet powerful. People using our platform's Editorial Calendar can now create, collaborate on and schedule Instagram story drafts.
As with the other social networks supported in our calendar, Instagram Stories publishing comes with approval flows, internal note sharing, and high-fidelity previews. All exist to make teamwork easier with matchless transparency.
The beauty with this is that marketers can now create and publish all kinds of Instagram posts using all the advantages of a social media content calendar. That means time-saving features such as a shared interface and content pool, and the quality control enabled by approval flows.
Stories are the latest addition to our recently launched Instagram Publishing Flow, check it out here:
How it works
Once your Story is completed and approved within the Editorial Calendar, you can schedule it. When it's time to go live, Falcon will send a push notification to a mobile device logged into your brand's Instagram account.
The push notification includes a preview; a single tap will save the Story to the mobile device, and open up Instagram ready for publishing.
Now, this is clearly not fully automated publishing and technically a workaround. Until Instagram opens up its API to publishing, someone in your organization will need to be logged into the Instagram app on their phone.
But aside from being the smoothest alternative yet, our publishing flow lets you treat Instagram Stories with the same processes, care and professionalism you can (and hopefully do) give your other networks.
That includes being able to see Instagram Stories within the full context and overview of your broader content stream. For the first time you will be able to see your Stories in the same place as your other network posts – and, in the case of Falcon, your campaigns.
Quality is in the details
Developing our Instagram Stories Publishing flow was a fascinating process. We closely analyzed the format, researched best practices and interviewed our customers. This revealed a number of less obvious ways to make life easier for people working with Instagram.
•Story links
First, we noticed that verified Instagram profiles can embed links in their stories that users can easily open by swiping up. That's why we designed our story creation flow to allow you to define a URL. Any link you add is automatically copied to the phone's clipboard when the media is saved, so you can add it to the story without having to type it all in.
•Multiple story sets
Second, we took a look at the best Instagram Stories out there. We soon saw that many are characterized by narratives that play over multiple stories. It's a super creative way to play with the format and all the inspiration we needed to add it to our flow. So, we made sure that with Falcon you can create multiple Story Sets in a single calendar item. When published, the set is sent to the phone as a single bundle so you don't need to keep switching between apps. It's not only a timesaver, it will allow your content creators to preview whole bundles of stories as one narrative.
•Creative flourishes
Finally, Instagram Stories is as much about the text, stickers, and frames as it is about the visual itself. That's why we included an inline image editor to provide all these options. Once you've uploaded an image, just hover over it and click the edit button. Then you'll see an abundance of playful effects and filters that are perfect for creating a fun and interesting Story.
A labor of love made possible by customer feedback
At Falcon.io we love Instagram as much as anyone. So it's been great to take our Instagram offering to the next level. And we couldn't have done it without some beta help from our customers.
So a big thank you to Finish Line and CitizenM. Your contribution and feedback in our interview process, ideation, and early testing was invaluable.
We're not completely done with Instagram for this summer yet, though. We have a few more cards up our sleeves, so keep an eye on our channels. We promise you won't be disappointed.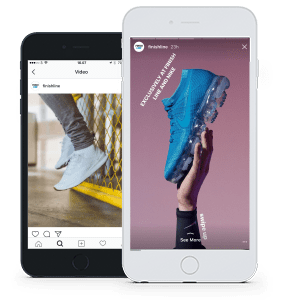 Instagram Publishing With Falcon.
Plan, create, and collaborate on your Instagram strategy, including stories, videos and images.