Instagram Stories are the popular kid in school right now. Everyone knows them, everyone likes them, and they keep spreading new trends that people want to jump on. And yeah, one of the less popular kids may have come up with most of those trends, but Instagram's the one that made them cool.
But Instagram Stories are way more popular than any prom king or homecoming queen. In fact, Instagram recently announced that the format now has over 500 million daily active users.
Marketers on Instagram have recognized how powerful Instagram is for advertising, too—Instagram is projected to generate over $10.8 billion in ad revenue by the end of 2019.
Although Instagram Stories may have "borrowed" a lot of ideas from Snapchat, they also seem to be the favorite format for marketers these days. For example, a 2017 study found that 41% of social media marketers were using Instagram Stories for their campaigns versus a mere 9% using Snapchat Stories.
That probably has a lot to do with two things: Instagram being backed by Facebook and their powerful Ads Manager, and the awesome new features for Instagram Stories they've been pumping out nonstop lately.
To help you keep up with the latest Instagram Stories features, we've compiled the five biggest updates of the past year here, from music stickers to shoppable tags.
Plus, we'll break down how to use these brand new Instagram features and offer some simple tips for implementing them in your social media marketing strategy.
So, let's get into it, shall we?
For more Instagram goodness, try these 21 Tips to Massively Boost Instagram Engagement. And for inspiration, we recommend these 5 Examples of Brands Successfully Using Instagram Stories. Finally, here's a quick and useful guide on How to Download All Your Past Instagram Stories.

1. Questions stickers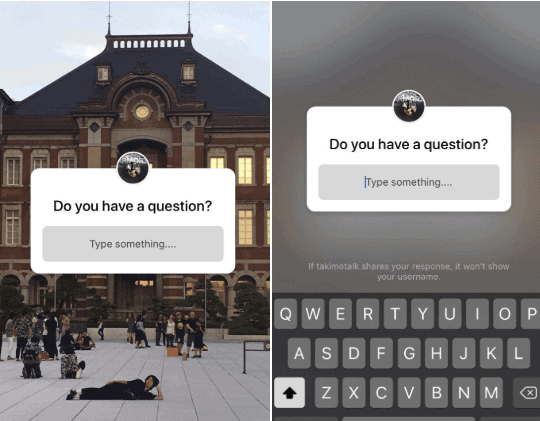 Instagram questions stickers let you prompt your followers to ask you questions through your Story. Source: Techcrunch
Released on July 10, questions stickers are the latest Instagram update to add flair and interactivity to your Stories.
They let users prompt their friends and followers to ask them questions, which they can answer by creating new Stories that show the original question for context.
At first glance, this new Instagram feature might sound like nothing more than a fun distraction. For brands, however, they offer a lot of potential.
After all, they're an awesome way to get a conversation started with your community on Instagram. Your brand can use questions stickers to ask for questions about new features, products, ad campaigns, or whatever you want feedback on.
In the process, you'll make your followers feel heard and let them know that you value their thoughts, opinions, and concerns. On top of that, you'll be boosting engagement along the way since the feature is so inherently interactive.
How to use questions stickers for Instagram Stories

You can easily see all the responses to your questions stickers and decide which to answer. Source: Instagram
Take or select a photo or video to add to your Story (that's right—they work with videos too).
Select the questions sticker in the Stories sticker tray.
Type in your prompt for questions.
Place the sticker where you want it on screen.
Publish your Story for all your followers to see.
To reply:
Your followers reply to your sticker by tapping it and entering the text of their question.
Their questions show up in the viewers list of your Instagram Story.
Tap the question you want to respond, generating a new Story.
Enter your answer as a text sticker on the new Story and publish it.
Tips for marketers
Try hosting an "ask me anything"-style interview with a well-known person at your company to humanize your brand and generate curiosity among your followers.
Reverse the equation and use the prompt to ask your audience a question instead, like what they think of your latest product or how they're using it.
Start a contest by asking for responses to your questions sticker—for example, whoever can write the funniest caption for the image you've posted the sticker on.
Just open the floor and let users ask whatever they want, then showcase your customer service skills in your responses and make people feel noticed (and don't worry—only you can see all the responses, and you have total control over which ones you reply to).
2. Music stickers
Instagram is working on adding soundboard-like stickers for Stories

Sidenote – sounds like someone at Instagram is a Taylor Swift fan ;)

… get it? "sounds" like pic.twitter.com/N18lPuOK0H

— Jane Manchun Wong (@wongmjane) May 3, 2018
Instagram released music stickers for Stories on June 28, and yeah, they're pretty much what they sound like.
Music stickers allow users to have their favorite songs play in the background of their Story. No more awkwardly quiet Stories—and you can even pick the section of the song that serves as your soundtrack.
For brands, this isn't going to be a way to boost your ROI or make sales. However, it's an extra feature in your toolkit you can use to make your Stories more engaging and entertaining for your audience.
The right song with the right image can make your brand message all the more memorable, too—so this is one new Instagram feature worth experimenting with.
How to use music stickers for Instagram Stories

The music stickers library includes thousands of songs thanks to Facebook's recent deals with major record labels. Source: Instagram
Take or select a photo or video to add to your Story.
Tap to add a sticker and select the music icon from the menu.
Find your desired song by searching for it or browsing different genres, moods, or top charts.
If you want to make sure it's the right song, listen to a preview by tapping the play button.
Scroll through the song to find the perfect clip for your picture or video.
Bonus: you can pick your song clip before taking a video for your Instagram Story as well by swiping to Music and selecting a song before hitting record.

Music stickers let users select the exact part of the song they want to play during their Story. Source: Instagram
Tips for marketers
Use songs to make memorable moments or a clever play on words with the content in your Stories—like an audio company putting 'Good Vibrations' as a soundtrack when announcing their latest speakers (ok, we know that's kind of cheesy).
If you work in the music industry, promote songs that relate to what you're selling. Record labels, promote the newest artist you've signed. Guitar companies, include a song recorded on your guitars. You get the idea.
Use songs that resonate with your target audience to make your followers feel like you're in touch with their tastes and interests. If you're marketing to 18- to 24-year-olds, for example, use songs that are trending on college radio to show you're keeping up with the latest music.
3. Shoppable tags

Note: for more in-depth info on shoppable tags, check out Instagram Shoppable Posts and Why You Need to Be Using Them.
This one was a pretty major announcement for any digital marketers working in e-commerce. On June 12, Instagram finally brought shoppable tags to Stories.
Although shoppable tags have been available to select retailers for use in feed posts since 2016, this is the first time brands have been able to add them to their Stories.
Shoppable tags in Instagram Stories are a basically a sticker that appears with a shopping bag icon next to it. The stickers are used to label products that appear in the image or video. Users can then tap on the sticker to see details about the product and even buy it from within Instagram.
It's clear why this is a big deal for brands: shoppable tags in Stories will highlight their products in one of the trendiest, most engaging formats available on social media right now.
Plus, shoppable posts shorten the customer journey immensely for brands that have set up a product catalog through Business Manager already. They can tap the shoppable tag to get more information, then tap Shop Now to go directly to your mobile landing page and purchase the product. For select partners, Instagram is even testing a feature that will let them make sales in-app.
All in all, this means higher conversion rates, more traffic to your landing pages, and better ROI from your social media marketing efforts.
How to use shoppable tags for Instagram Stories
Shoppable tags display extra details and pricing information as soon as users tap them. Source: Instagram/Kicksta
You'll need to have a Facebook catalog and Facebook Business Manager account set up before using shoppable tags—we cover this in the article linked to at the top of this section.
Select or take an image/video featuring the products you want to tag and add it to your Story.
Tap on the product and open the stickers menu, then select the shopping sticker.
Enter the name of the product as it appears in your Facebook catalog, then select it from the search box.
Hit Done and share your Story.
Of course, getting your catalog set up and approved is the hard part—but once that's done, it's unbelievably easy to implement shoppable tags in your Stories. You can tag up to five products in a single image post, or up to 20 in a carousel post.
Tips for marketers
Don't overdo it with your shoppable tags—too many on screen at once will look cluttered and unprofessional. Stick to no more than two or three per image or video so each product stands out.
Keep your product titles short but sweet, since you have limited space on the tag itself. Use catchy or intriguing names to get users to tap for more details.
Since product prices are one of the few details that show up on shoppable tags, make use of pricing psychology to make your price labels more attractive (i.e. ending prices in .99)
4. Sharing feed posts in Stories

Sharing feed posts to Instagram Stories is a great way to highlight pics from your followers (or your own posts). Source: Instagram
Instagram has never had a "share" or "regram" button for its posts, but the new feature allowing users to share feed posts to their Stories is the closest thing yet.
Starting May 17, Instagram has been letting users select feed posts to appear as stickers in their Stories. For personal accounts, this means you can share your favorite pics from friends or family (for 24 hours, at least).
For brands, this new Instagram feature offers even more opportunities. For example, you can now share user generated content from fans in your Stories or highlight how people are using your products in their Instagram photos.
There are a couple of caveats to the feature though: first, you can only share posts from public accounts. Second, even users with public accounts can opt out of letting their posts be reshared to Stories.
Finally, the image will automatically show the post creator's username and link to their original post. As we'll cover in our tips later on, however, that automatic link can be super helpful for marketers.
How to share feed posts to Instagram Stories

Sharing feed posts to your Story is a relatively simple process. Source: Instagram/Beebom
Tap the paper airplane icon at the bottom-left of the post you want to share.
Select Add Post to Your Story at the top of the menu that appears.
The feed post will appear as a sticker which you can move, rotate, or resize on a customizable background.
Hit Send to and select Share next to "Your Story" at the top of the menu that appears.
Tips for marketers
Share your own posts in your Stories as a free way to give them a second life and boost reach and engagement. This could be for a #ThrowbackThursday, a reference to a popular post of yours, or just to get your most important content in front of your followers a second time. Remember, feed posts shared to Stories link to your original post automatically!
Use location and hashtag stickers when sharing your own feed posts to Stories to tap into larger conversations and increase the number of people who see both your post and your Story.
Share feed posts from influencers who are relevant to your target audience or industry—you'll show your brand is aware of key influencers and give them free promotion to start a conversation and maybe even a future partnership.
Showcase great user generated content and give your fans a shoutout, especially if you're running a contest or a hashtag campaign. They'll feel noticed and appreciated and you'll improve your relationship with your Instagram community along the way.
5. Carousel ads

Carousel ads for Instagram Stories let you add up to three images or videos so you can tell your full story. Source: Instagram/Newsfeed.org
Possibly the most notable new Instagram Stories ad feature of 2018, carousel ads were officially released on February 1. These essentially triple the amount of content advertisers can include in a Stories ad, giving them space for up to three swipeable images or videos.
While carousel ads have been around on Instagram since 2016, the jump to Stories is an exciting new placement for the ad format.
For one thing, having space for three frames of content makes Stories ads feel more natural because standard users often post multiple images or videos to their personal Stories.
Carousel ads for Instagram Stories also fit right in with organic content because users can interact with them like any other Stories content by swiping back and forth, tapping through, or pausing between frames.
Three pieces of content for the price of one ad also means social media marketers have more time and space to tell their "story" and raise brand awareness or promote sales.
Plus, the interactive nature of carousel ads gives consumers the ability to pause, replay, and swipe as they please, providing a more personalized and engaging ad experience.
How to use carousel ads for Instagram Stories
1. Enter Facebook Business Manager (the "grey Facebook", as we like to call it) and select Ads Manager under the "Create & Manage" menu.
2. Click the green Create button in the upper-left-hand corner.
3. Either create a new campaign for your Instagram Stories carousel ad or add it to an existing one.
4. Select the right objective for your campaign based on your desired business outcome.
5. Select Carousel from the list of Facebook and Instagram ad formats.
6. Add the images or videos you want to include in your Instagram Stories carousel ad under the buttons labeled 1, 2, and 3.
7. Preview your ad creative on the right-hand side to make sure it looks right.
8. Add a relevant headline and description for your ad.
9. Include a destination URL you want to promote in your Instagram Story.
10. Click Confirm in the bottom-right hand corner. Your ad will go to review and if all goes well, your Instagram Stories carousel ad will be running in no time!
Tips for marketers
Use your carousel ad to actually tell a story and raise brand recall rates. The multiple panels you're allowed in this format mean you can wow users with a memorable three-part tale that has a beginning, middle, and end.
Use the three-part format of the carousel to show different angles or details of your product. For example, you can show off a new dress from the front, side, and back, or display the inside and outside of your latest car design.
Try out the carousel optimization option in Ads Manager that says "Automatically show the best performing cards first." Checking this box will let the Instagram ads engine see which cards in your Story are contributing the most toward your KPIs and display them to users in that order. If the order of your panels isn't crucial to you, this can be a great way to improve your ad performance.
What's next for Instagram Stories?
With the impressive number of new features and updates Instagram has already released for Stories, it's no surprise that they'll be pumping out even more in the near future.
For one thing, you can probably expect even more face filters and other cool augmented reality camera effects before the year is over. Influencers and brands will soon be able to create custom filters and effects in Facebook's AR Studio—and only users that follow their accounts will be able to use these filters, creating major social media marketing opportunities.
Music features in Stories are on the rise as well, so it wouldn't surprise us to see a Soundcloud integration in the near future—after all, Spotify is already on board.

Instagram's partnership with Spotify could mean even more music features for Stories around the corner. Source: Instagram/Variety
Finally, in this period where parent company Facebook is increasingly monetizing its software products, we can expect to see shoppable tags in Stories continue to evolve and gain new features, especially with regards to native shopping and in-app purchases in Instagram.
All in all, now is a better time than ever for brands to take advantage of the latest Instagram Stories features, both paid and organic.
To make the process of posting to Instagram as streamlined as possible, we recommend Instagram Publishing and Measurement with Falcon. You can schedule your Instagram posts and Stories in advance, collaborate on them with your team, and see advanced analytics on their performance all from one platform.
But whether you're publishing Stories natively or from an SMM platform, they're a feature you can't afford to ignore in today's social media landscape. So keep following the latest Instagram updates—a new one has probably been released since you started reading this article.