The meteoric rise of visual social networks like Snapchat, Instagram and (to a lesser extent) Pinterest represents an existential threat to the traditionally text-heavy Facebook News Feed.
Facebook may have a stake in this trend through its ownership of Instagram, but their current strategy suggests they would prefer to keep users engaged with Facebook itself.
Facebook has never avoided making changes in its quest to keep users satisfied—even if those adjustments were initially unpopular.
So, it's little surprise to hear that the iconic News Feed currently used by more than 2 billion people worldwide is about to undergo a facelift.
To adapt to the rise of Stories, we also recommend these 5 Examples of Brands Making Amazing Instagram Stories.
Or if you're more interested in how Facebook is monetizing its channels, here are 5 Things You Need to Know about Facebook Messenger Monetization.
Finally, if you're interested in Stories as a potential ad format, learn about How to Optimize Your Facebook Video Ads in 2018.
What are Facebook Stories? Their response to demand for visual sharing



Facebook Stories in action. Source: TechCrunch
The rise of visual content isn't new, nor are Facebook's efforts to use it. For instance, users have been able to create "Stories" within the Facebook Messenger app since September 2016.
A direct port of Instagram Stories, Facebook Stories allow users to share photos and short video clips with specific contacts or followers through Messenger.
A selection of filters, overlays and stickers can also be used to further personalize the images shared.
As you would expect from a feature inspired by Snapchat, these Stories self-destruct after 24 hours along with any comments left by the user's followers.
Goodbye News Feed?



Facebook Stories are on the rise this year. Source: TechCrunch
By May of this year, Facebook Stories had achieved 150 million active users—fewer than Snapchat (191 million), Instagram Stories (300 million) and WhatsApp Stories (450 million), but apparently enough to warrant continued development.
During his F8 presentation, Facebook's Chief Product Officer Chris Cox shared a presentation slide showing how stories are exploding in popularity; quoting statistics collected by analyst Block Party, he claimed that Stories grew 15 times faster than traditional news feeds between Q2 2016 and Q3 2017.
This growth in popularity is attracting attention from the top brass at Facebook.
During the fourth quarter earnings call, Facebook CEO Mark Zuckerberg drew specific attention to Stories, stating the following:
"We expect Stories are on track to overtake posts in Feed as the most common way that people share across all social apps."

Also see: How Will the 2018 Facebook Algorithm Change Affect Marketers?
A continuing push toward mobile


Social media users are used to reading text on their smartphones, but the experience is now seen as lacking.
Instead, they want to see videos and pictures that communicate much more information and emotion in the same space.
Advances in mobile technology and cellular networks have made it easier to deliver on that preference, making the news feed format less necessary.
Not just yet
Facebook has already built Stories features into all of their apps—but there are two reasons why News Feed remains the primary interface.
First, user familiarity—after ten years, people instinctively know how to scroll through posts from their contacts.
Second, Facebook needs to be sure that they have designed a workable monetization strategy.
Up until now, Facebook Stories have been ad-free in an effort to convince Snapchat users to defect.

Snapchat's stock value has not been great since their IPO. Source: Google Finance
And as Snapchat's growth stagnates (in addition to losing $385 million during Q1, their user base actually shrank in March), Facebook has cautiously begun the process of testing ads within Stories.
Zuckerberg revealed in the same earnings call that Facebook is focused on the following:
"…making sure that ads are as good in Stories as they are in feeds. If we don't do this well, then as more sharing shifts to Stories, that could hurt our business."
All evidence suggests that Facebook Sponsored Stories will be a thing sooner rather than later.
Definite potential for advertisers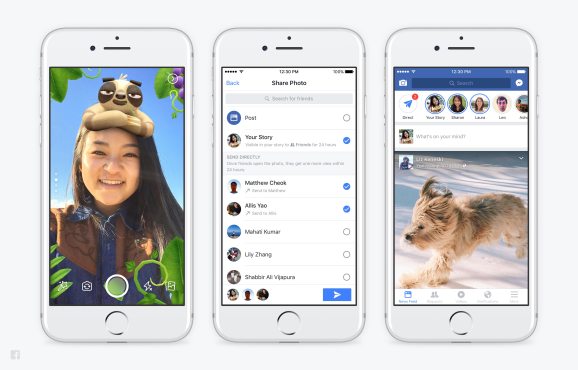 Facebook Stories look ripe for monetization at this point. Source: Facebook via Venture Beat
How ads will be shown in Facebook Stories may not be resolved yet, but the necessary tools are already in place for advertisers to port existing ads from Facebook and Instagram.
Many advertisers are probably avoiding Stories at present because of the predominantly teenage user base, but were Stories to replace News Feed, that situation would quickly change.
Although marketers may be reluctant to jump into yet another digital channel, Facebook Stories actually solves an important problem.
When Facebook announced they were retiring sidebar units on the main feed, they also limited the amount of available ad display space on the user's feed itself. 

Facebook sidebar ads are now a thing of the past. Source: Our Social Times
Advertisers now find it harder (and potentially more expensive) to get their sponsored posts in front of network users because they must compete with rivals for fewer available placements.
So the addition of another channel actually creates more space by appending ads to the videos and animations displayed in a Story.
If News Feed is retired entirely, these in-stream ads could potentially be displayed on a much higher percentage of updates—perhaps even all of them, if Facebook were to follow YouTube's lead.
It is also perfectly possible that brands will re-engineer existing channel strategies (think YouTube) to generate a following for their Facebook Stories for Business account.
If a brand already has fans on Facebook, it makes sense to begin creating Stories for their consumption.
Until monetization is solved, Facebook will not allow Stories to replace the traditional News Feed.
But with such impressive growth in user base, they are undoubtedly working hard to build an ad revenue model that works for them, their advertisers and their users.
Watch this space—everything may be about to change once more.
Webinar: Keeping Up With the Ever-Changing Social Media Algorithms.
Everything you need to know to make algorithm changes work to your advantage.