If content is king, then video is surely its kingdom.
After all, the medium figures large in our online lives, remaining one of the most popular ways of consuming content. And unsurprisingly, social video is still seen as an investment priority for the online social media giants as well.
For instance, YouTube has rolled out live streaming capabilities for the first time while Facebook has just launched its Watch service, determined to topple Google's Goliath as the de facto platform for video marketing.
And they're both right to invest – according to Cisco, online videos will make up more than 80% of all consumer internet traffic by 2021.
Such a startling statistic is underlined further by viewers' appetite for marketing videos too; an Animoto survey revealed that one in four consumers lose interest in a company if it doesn't offer video. The medium then remains an open goal for those charged with digital marketing especially in the social media space. But as ever, where should you focus your time and resources?
To help sort through the increasing flood of social video marketing options, here's a breakdown of the key trends and issues that will affect the scene over the next 12 months:
1. Embrace the big players
No marketer can ignore social media's 'big beasts' as they continue to dictate the direction social media heads in. After all, in 2014, Facebook's Mark Zuckerberg boldly declared that video was the social network's future.
Fast forward three years and his bullish conviction remains undeterred despite setbacks. Last year's Facebook Live has now been joined by Facebook Stories (which hasn't had the greatest of starts) and Facebook Watch, which offers a one-stop service for people to view net-based shows while swapping messages and reactions with friends.

Facebook Watch, launched in August, is Facebook's biggest challenge to YouTube and Google yet.
If that sounds like Facebook trying to push into not only YouTube's but Netflix and Amazon's territories, you'd be right. For marketers, Facebook Watch offers huge potential for product placement as well as branded long-form video content (if handled deftly).
Major players including BuzzFeed and Conde Nast have already signed up, meaning savvy marketers should not only begin to explore ways in which to connect with potential viewers but monitor and engage with emerging influencers as well.
2. Cast your social video net wide
While Facebook and YouTube continue to duke it out, don't forget the 'smaller' players like Instagram Stories and Snapchat who along with Facebook make up the top three channels for viewing branded videos. The significance of these smaller platforms is underlined by marketers spending plans for the next 12 months.
Investment in both Twitter and Instagram video is being increased dramatically (up from 25% currently to 50-52%) to put them more in parity with Facebook and YouTube spend (63 and 62% respectively for the next 12-months). It's essential then to keep pushing social video marketing into growing or new channels; stand still and you risk being left behind by competitors.
3. Accept size still matters
While Facebook Watch (and Live variants – see below) offer marketers the potential for long-form social video content creation, it would be wise to regard them as the exceptions, not the rule, when it comes to running times.
Research shows that patience among consumers is dwindling when confronted by, say, two-minute 'news pieces'; according to the latest survey by Animoto, the sweet spot is up to the one minute mark with viewing figures falling off dramatically after that point – especially on mobile where brief 'clips'-style content remains popular.
4. Go live to thrive
Live video represents one of the biggest opportunities for snaring consumer attention. For instance, Facebook Live's captivation times are reportedly 20 minutes on average while Instagram Stories has over 200 million daily active users, Snapchat 161 million and Twitter 100 million. With so many platforms available, it is essential that marketers focus on those channels where their customers spend most of their time and provide content that is suitable for live streaming.
Consider exclusive behind-the-scenes tours, contests, live feeds from events (such as Starbucks' Facebook Live feed that promoted voter turnout in Jamaica's elections) or reveals of new products or services (including countdowns) via Instagram Stories.
5. Don't play dumb
According to Forrester Research, one minute of video is worth 1.8 million words. It's perhaps ironic then that for all the talk of words being six feet under, mobile users don't typically use the sound on their phones to watch videos; instead, they watch silent auto-plays via their social media feeds.
While Facebook tried to address the issue this year by making sound autoplay with videos, some viewers have been left infuriated by the intrusion. To ensure you don't alienate audiences, offer either subtitles or closed-captioning so viewers can still enjoy your video's narrative even if their phone's sound is muted.
6. Engage influencers
User-generated social video content remains vital to marketers, enabling them to create campaigns that generate fan-sourced content that's shared based on 'word of mouth', not on the size of your marketing spend. Fresh, innovative thinking is essential in this space; for instance, companies such as Dell and Amazon are rewarding users who mention their brands with personalized short videos or gifts, in turn creating potential brand ambassadors.
Others are offering influencers the opportunity to 'take over' their Instagram Stories or Snapchat accounts, allowing them to post content that will engage with the brand's target audience. It's a smart move as 92% of consumers trust an influencer endorsement over traditional advert or celeb endorsements according to influencer marketing platform MuseFind.
Whichever UGC strategy you choose to adopt, ensure you give consumers the right content creation tools in the first place; according to Adweek, 50% of consumers want clear information on how to create content – but only 16% of brands are giving them the guidelines they actually need.
7. Explore new realities
Filters and masks that change your appearance on Facebook Live or Instagram and Snapchat Stories are more than mere novelties. They've inadvertently acted as a teaser for a much larger trend about to break cover – access to fully fledged Augmented Reality (AR) in your pocket.
Facebook detailed their ambitious vision in this area at this year's F8 Conference.
But why the sudden upturn? In part because interest in dedicated Virtual Reality has plateaued among consumers for now and secondly, because of Apple; its new ARKit platform means that millions of iPhone and iPad owners now have instant access to advanced AR almost overnight.
Early applications for Apple's technology have already produced some impressive results and expect consumer interest in AR to grow over the coming months as developers begin to fully exploit the tech's feature sets – and marketers should follow suit by innovating with AR-themed branded content as well.
Keen to keep up with the ever-changing state of social media? See the trends that will shape the rest of 2017.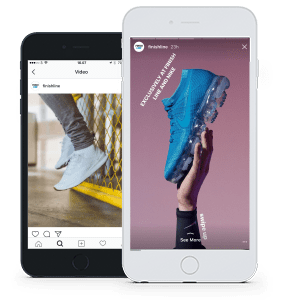 Instagram Publishing With Falcon.
Plan, create, and collaborate on your Instagram strategy, including stories, videos and images.