How do you produce quality social media content?
It's a question that brands both big and small are asking themselves, and one we recently put to Philip Bock, CEO & Co-founder of Supervisual. With over 5,000 approved content creators, Supervisual has created "an online platform where brands and agencies can connect with content creators around the world." By providing brands and external content creators with the tools necessary to collaborate, Bock and his team are helping companies overcome one of the top social media challenges: creating social media content.
According to the Content Marketing Institute, 49% of B2B marketers say that content creation challenges have impeded the success of their content marketing programs.
As described in our recent webinar, Supervisual is working with brands like Baume & Mercier to develop social media content in urban environments around the world. By outsourcing the content production process to freelancers in cities like New York or London, these brands are able to achieve more diversity when it comes to the look of their content.
Bock firmly believes that "the core problem we are solving is helping brands create content with more variety and enabling them to do so more creatively because of the network of creators we have."
And when it comes to producing social media content, Bock has several tips for brands. He says that one of the main things brands should aim to do is "create content that fits the platform that they are present on."
Often, brands reuse visual imagery originally created for billboards or print magazines, but this polished imagery does not fit the social space. Instead, he says that brands should not be afraid of sharing more authentic content that exposes their brand personality because it is easier for consumers to relate to.
Watch the full interview above to hear Philip's advice on the most common mistakes brands make on social media and how they can elevate their content to the next level.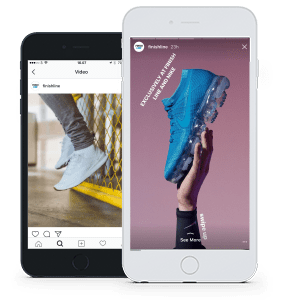 Instagram Publishing With Falcon.
Plan, create, and collaborate on your Instagram strategy, including stories, videos and images.