Going live is social media's latest phenomenon. I'm sure you've noticed that every time you browse your social feeds, people and brands you follow are live streaming.
So, will live video actually benefit your brand, and if so, how do you get started with live broadcasting?
In this article, we discuss the benefits of going live and how live streaming can benefit your business.
We then look at how to go live on Facebook, Instagram, and Twitter, providing step-by-step instructions on how to set up a live broadcast. By the end of this guide, you will be ready to go live on the social network of your choice.
Let's get started…
Why go live?
Broadcasting live video has become a powerful tool for brands, businesses, and influencers alike. In fact, Facebook recently stated that live video generates 6x more interactions than regular video.
Streaming live video enables viewers to connect and directly engage with brands in real time. It can be used to promote products, answer questions, share experiences, and more importantly, build relationships with your potential customers and clients.
Live video can also give brands a good idea of what their target audience is thinking and offer meaningful insights into what customers want. This is because the personal and authentic interactions that live video creates ensure that not only does your audience get to know you, but you also get to know them.
By building a relationship with your followers, you are more likely to make people remember you, trust your brand, browse your website, and continually return to engage with you on social media.
This makes live video a key tool for creating lifelong followers and customers.
Also see: 3 Benefits of Live Video for Your Brand.
How to go live on Facebook

The actual process of going live on Facebook is very straightforward. You can live stream from your desktop or smartphone. Let's look at how to broadcast from desktop first…
Desktop
A Facebook live stream can be broadcast from a profile page, business page, or in a group or event. To start streaming, open the appropriate Facebook page. Then, from the Comment box, select Live Video.
Next, Facebook will ask to access your camera and microphone—click Connect. You will then need to customize your Facebook live settings.
Under Create a Live Broadcast, you will be able to:
Select where to post your live broadcast
Write a description for your video
Disclose your location
Change which microphone and camera you are using
Give your live broadcast a title
Add tags to make your video more easily discoverable
Once you are happy with your settings, simply click Go Live at the bottom of the page. A red Live button will now display on the screen, indicating that you're on the air.
You can broadcast live video for up to four hours. Once you have finished, select End Live Video.
You can now Save the video to your page so followers who missed the live broadcast can watch it later.
Also see: 5 Brands Successfully Using Live Video
Facebook mobile app
Streaming through a smartphone follows a very similar process. Open the Facebook app and tap the Comment box. Then select Go Live.
Here you will find a few differences in the features you can select, which will appear at the bottom of your screen.
On mobile, you're able to:
Choose a theme—there are a number of 'theme' options available, including live video, bring a friend, and live answer
Add filters, text, drawings, or animated lenses
Tag friends and followers to tell them you are live
Add your location
Write a description and use emojis to share your mood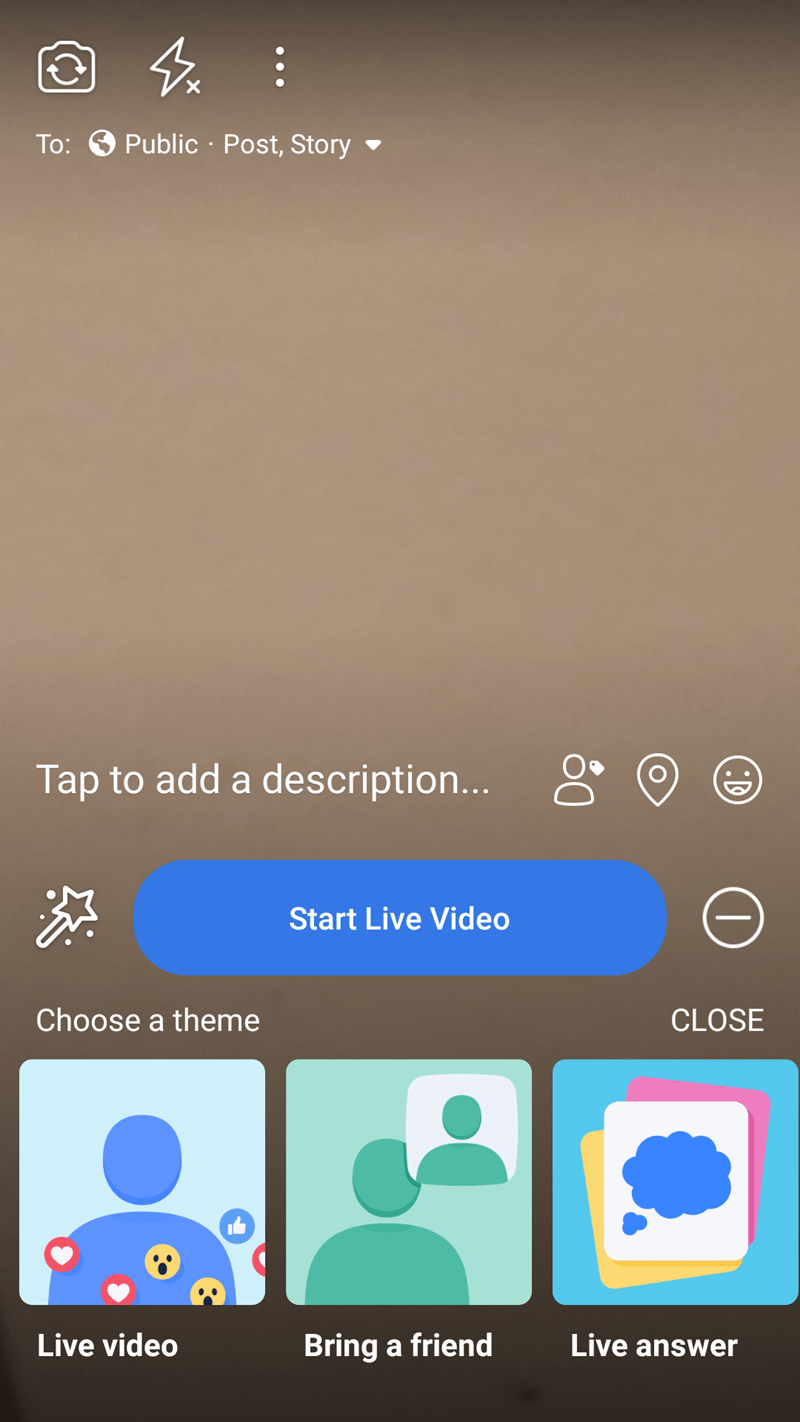 Once you are live, you can also write comments, add viewers to your broadcast, and more.
To end the broadcast, simply select Finish. You can then choose where you want the recording of your stream to be saved (or just delete it).
Winning at Facebook Live
Reebok Crossfit Games uses a combination of Facebook tools to keep in contact with their community and supporters.
Facebook Live plays a key role in this interaction, with live broadcasts of competitions around the globe being streamed on their Facebook page. This enables the community to watch, support, and discuss the games as they are happening.
Facebook Premieres
Facebook has recently announced they are working on a new video format called Facebook Premieres. This will enable pre-recorded videos (movie trailers, music videos, etc) to be played at a scheduled time with live features such as viewer interaction, live comments, and more.
Facebook Premiers is currently being tested among creators and publishers, including FBE Shows—so watch this space.
How to go live on Instagram

Going live on Instagram is also very quick and easy. To get started, open the Instagram app and select the Camera icon in the upper left-hand corner. 

Next, press Live at the bottom of the screen and then tap Start Live Video. You will now be live on Instagram.
During the broadcast, you can invite people to watch your video and the number of viewers currently watching will appear at the top of the screen.
You can also write a comment, then tap and hold to pin it to the top of the comment section so your viewers can see it immediately.
When you have finished your Instagram live stream, tap on End in the upper right-hand corner of your screen. You can then choose to Share your video to your Instagram Story for the next 24 hours, or simply tap Discard to delete it.
Winning at Instagram Live Video

Jasmine Schmalhaus, founder of the online healthy eating community Your Dinner is Planned, regularly live streams on Instagram.
During these broadcasts she discusses the benefits of healthy eating, shares recipes, demonstrates how to cook a range of dishes, and much more.
This helps her connect with her followers in a useful and engaging way and encourages new viewers to sign up for her membership site.
How to go live on Twitter
Twitter also has a live video feature that is powered through Periscope and can be accessed via the Twitter app.
To go live on Twitter, open the Twitter app on your phone and select the Tweet button. Then click on Live -> Go Live to start your broadcast.
During your Twitter live video you can:
See the total viewer count for the broadcast
Ask people to follow you
Share your video via a Tweet, direct message, or link
Live chat with your viewers
If you want more video features, download the Periscope app. Live videos from Periscope are automatically posted to Twitter and function just like normal Tweets.
This means they are searchable and can be retweeted, as well as embedded on other websites.
Winning at Twitter Live
World-famous rock band Guns N' Roses regularly go live on Twitter during their shows, enabling fans to watch them perform even if they aren't in the crowd.
Their live streams generate tons of engagement and buzz around the band. Plus, they create a virtual audience where their fans can connect and interact with each other.
Final thoughts on how to go live on social media in 2018

To finish off, here are some of the top tips for going live on social media:
Promote your live video – Post about your live session beforehand so your followers know to tune in to the stream.
Rehearse – Plan out what you are going to discuss and have a practice run-through.
Check the internet connection – Ensure you have a strong internet connection that will last throughout the broadcast.
Interact – During the video, greet people by name as they join, read out interesting or positive comments, and answer people's questions.
Don't be too promotional – Make sure your videos are engaging and full of interesting content, not just trying to sell something.
Use calls to action – Don't be shy to ask viewers to like your video and follow your account.
Relax and be yourself – Your audience knows the video is live and they won't be expecting perfection. If you enjoy the experience, so will your viewers.
So, now you know what to do, it's time for you to go live. Are you ready?
Infographic: Best Times to Post
The best days and times to publish content on social media in 2018 - all in one beautiful infographic.