Falcon recently hosted a Twitter Chat with our friends from Hydro Studios to discuss effective storytelling. The art of entertaining and pitching products has rapidly changed in the recent years as technology evolves and becomes more affordable. The linear television programming and advertising format from 20 years ago is now struggling to keep apace in a viral world. We discussed these innovations and trends in our chat.
We were joined by Ryan Bell, Director Of Digital Strategy at Hydro, Mikael Lemberg, Director of Product Innovation and Partnerships at Falcon and Caitlin Brennan, Falcon's Digital Content Strategist (aka your dear blogger) for a fast moving, informative and fun chat. Here are the highlights.
What are the most important factors when devising an Instagram Stories content strategy?
Instagram Stories are becoming the hottest format in the social landscape. With more than 700 million active app users and 250+ million daily Story consumers, they have already won more eyeballs than Snapchat.
Brands and consumers love it and for good reason. Stories introduces an all new level of playfulness and visual storytelling on a platform with a massive and growing audience.
A3 Stories should be visually compelling, have a storyline, provide context, on-brand, creative & fun. #FalconChat

— Falcon.io (@FalconIO) July 18, 2017
A3 Knowing what the audience engages w/ is🔑. The work we are doing for @AltaPride is a great example. https://t.co/v22LQsyX5r #FalconChat pic.twitter.com/3tRd0JdVMZ

— Hydro Studios (@HydroStudios) July 18, 2017
What advice do you have for brands or agencies hesitant to go all-in on Instagram Stories?
If brands aren't taking advantage of the reach and popularity of Instagram Stories, they risk getting left behind. Stories can enhance brands as a creative channel, or pivot an image from a carefully curated aesthetic to a view which provides your followers a glimpse of a different side of your brand.
A5 You don't needs creatives & meetings to plan Stories, they can be raw & unedited. Stories can humanize & show an unseen side #FalconChat

— CABrennanDonefer (@SeeAyeBeady) July 18, 2017
A5 …and don't be afraid to be a bit goofy on IG Stories. Goofy = honest. #FalconChat

— Mikael Lemberg (@Lemberg) July 18, 2017
A5 Just close your business now. If this doesn't look like the future to you, you're in the wrong game. #falconChat pic.twitter.com/NCoZQFGnFb

— Greg Flannigan (@gregflannigan) July 18, 2017
A5 More people are using @instagram Stories daily > @Snapchat. Going all-in w/ great storytelling will = awesome engagement. #FalconChat

— Matt Lugo (@WWMLD) July 18, 2017
Using IG Stories = Humanizing Brands. Memorable brands make us feel connected – emotions open doors to relationships #falconchat #humanbrand

— JillianFalconi (@JillianFalconi) July 18, 2017
How will AR and VR content make us rethink storytelling on social media?
At Facebook's F8 conference this year, the company outlined their bold long-term plans for the AR/VR space. Facebook sees AR/VR as the future of not only social media, but digital technology in general. They are making big-time investments now, even before the technology they envisage exists.
A10 Mobile made #Snapchat #Instagram & others. #VR & #AR will bring platforms "apps" AND story #FalconChat

— Ryan A Bell AR & VR (@ryan_a_bell) July 18, 2017
A10 #FalconChat I see AR being what evolves us into heads-up culture, can't wait to kill the screen and replace with immersion lifestyle.

— Greg Flannigan (@gregflannigan) July 18, 2017
What can agencies and brands do now to prepare for the rise of AR or VR content?
It might sound daunting or too futuristic, but like with Facebook, it's time for brands to start planning now.
A11 Follow thought leaders, create content (even if it's internal), LEARN. #FalconChat

— Ryan A Bell AR & VR (@ryan_a_bell) July 18, 2017
A11 Buy a VR headset and start playing. Divine inspiration doesn't occur if you have no clue about the opportunities at hand. #FalconChat

— Mikael Lemberg (@Lemberg) July 18, 2017
A11 Stop waiting and start now! Internal or PR projects are a great start. #FalconChat pic.twitter.com/uTQIyrozwg

— Rob Crasco #VR (@RoblemVR) July 18, 2017
Do you think Snapchat is losing relevance due to Instagram Stories' similar functions?
Snapchat scored big bringing AR to the masses in the form of a hotdog that dances. But even with the appeal of the lovable breakdancing pal, Instagram Stories are still overtaking.
A12 Yes & they need to make a move FAST. Filters aren't as good on #Instagram yet. Tech is ahead but viewers already are. #FalconChat

— Ryan A Bell AR & VR (@ryan_a_bell) July 18, 2017
A12 Snapchat's has less reach than Instagram and a much more immature business setup. They need to change that fast to survive. #FalconChat

— Mikael Lemberg (@Lemberg) July 18, 2017
How do you see entertainment and tech becoming more intertwined on social media?
Entertainment, tech and social media are increasingly becoming interchangeable. Social media is entertaining and technology facilitates both. According to Pew Research, 77% of Americans have a smartphone. Which means the majority of American's have the technology to deliver social media and entertainment in their pockets.
A14 Hahahaha… isn't it already? I judge @TheEmmys and this year Interactive is next level! #FalconChat

— Ryan A Bell AR & VR (@ryan_a_bell) July 18, 2017
A14 Yes Social Media companies are already jumping into creating their own entertainment content. RIP linear television. #FalconChat pic.twitter.com/K8JfZbQ0W6

— Rob Crasco #VR (@RoblemVR) July 18, 2017
Can your brand tell more compelling stories?
There's no doubt the way we tell stories is rapidly evolving, be it how we share events with friends or convince people to buy our products. A big thank you to everyone who participated and to our wonderful friends at Hydro Studios. If you'd like to ensure you are getting the most out of your social media efforts, Hydro is offering a free social audit to help you develop more impactful social marketing strategies by providing a comprehensive analysis. You can request an audit here.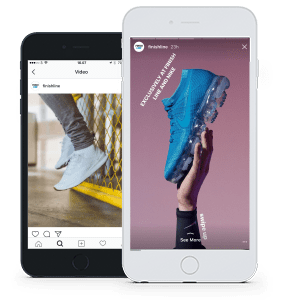 Instagram Publishing With Falcon.
Plan, create, and collaborate on your Instagram strategy, including stories, videos and images.