User Generated Content (UGC) is quickly gaining popularity with digital marketers looking to establish their brand online. The key attraction is that UGC provides a way to drive that all important social metric – engagement.
But what is user generated content? And why does it matter?
UGC – encouraging customers to talk to you
User generated content is as old as Web 2.0. Bloggers were once able to create a relatively large following based on niche interests, using comments under each post as a way to connect with their audience. Over time, we saw the emergence of "guest posts", where third party experts, or even customers, would contribute an article, helping to strengthen community ties.
This was followed by reviews, encouraging customers to leave a rating of products and services that could then be published on a brand website. Amazon heavily promotes these reviews at the bottom of every page for instance.
However, social media has taken UGC to the next level. Initially, brands could encourage wider conversations with followers through the use of hashtags, allowing them to easily locate and collate content specifically related to an online campaign. Modern UGC campaigns are far more creative, however, encouraging fans to share pictures and videos that they have created. 
The meteoric growth of Instagram Stories is taking this to an all new level.
By engaging customers in the content creation process, they are also engaging effectively with your brand. And the more people who engage in a UGC campaign, the further your message spreads.
But why does UGC matter?
Internet users are increasingly savvy and self-reliant. Marketing expert John Neeson says, "Buyers agree that they navigate at least the top third and, at most, the first two-thirds of the sales cycle without sales."
Customers can find the information and advice they want without the assistance of your sales team. This insight is vitally important because it raises a question – where do customers find information before making a purchase?
As we've already mentioned, reviews are massively important – those hosted on your website, through third parties like Trustpilot, or simply shared on the customer's own social media accounts. 69% of customers read positive reviews online before making a purchase – and 63% read negative reviews too. Anywhere that customer reviews are posted, people read and take note of them; 59% of people usually or always check ratings before downloading a smartphone app for instance.
Marketers face a harsh reality – just 4% of customers trust advertising most for service information. That leaves a massive 96% majority looking anywhere but your campaigns for unbiased information that will ultimately influence their purchasing decisions.
The modern, connected customer likes to retain control of their relationships, particularly in relation to brands. But when these people do encounter recommendations (or warnings), they will act on them.
Not just "reviews"
User generated content is about much more than soliciting and sharing customer reviews though. Social media is increasingly image-driven – as shown by the popularity of Instagram. Savvy marketers can tap into this trend, encouraging users to share more than just product reviews.
A successful UGC example
Take Virgin Holiday's #SeizeTheHoliday campaign for instance. Customers going away with Virgin Holidays were asked to share photographs of their trip on Instagram, Twitter or Facebook with the #SeizeTheHoliday hashtag.
Virgin's social media team constantly monitored the specified hashtag, collating the posts and reusing them (with the user's permission). The very best images were then used as part of a billboard advertising campaign – and some were even used on a TV spot. All the while, Virgin Holidays were still promoting the #SeizeTheHoliday campaign.
The genius of the campaign was that the content was being created and approved by customers themselves. Not only did this help to reduce costs with running a multi-format campaign, but also provided much-needed social proof from real customers.
The #SeizeTheHoliday campaign began in September 2016, gearing up towards the Black Friday holiday season peak. Customers were continually re-engaged throughout that period, earning entries into a prize draw for a holiday, once certain thresholds were met. Targeting 3000 tweets during the 8-hour Black Friday window, the Virgin Holidays social media team achieved well over 6000, driving social sentiment up by 37% in the process.
Most important of all was the effect on sales. According to Virgin Holiday's estimates, online bookings went up by 260%, and passenger numbers increased by 64% on the previous year.
Unavoidable – but profitable
Whether your business actively engages in user generated content or not, your customers will. Indeed, more than 70% of customers will share a poor experience on social media and online review sites.
As the Virgin Holidays example shows, user generated content can be a good thing. The campaign was proactive, asking fans to create and share content themselves, then using it to promote the positive aspects of their service. And with a 260% increase in bookings, the campaign was an unarguable success (it went on to win the 'campaign of the year award' from Marketing Week).
If your business is not yet taking advantage of user generated content, you are missing a huge opportunity. After all, if customers are already creating content, why not try engaging them to shape a positive message?
To learn more about user generated content, and how to measure the success of your UGC campaigns, please get in touch with us here.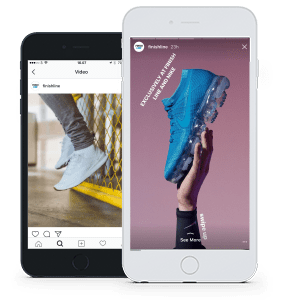 Instagram Publishing With Falcon.
Plan, create, and collaborate on your Instagram strategy, including stories, videos and images.