Valentine's Day is the busiest time of year for certain chocolate brands. Which ones are doing the best to target their would-be customers and fully leverage social media marketing?
I used to work in an office just north of Grand Central Station in New York City. Every Valentine's Day at close of business, I walked past Grand Central's Godiva store and saw the same sight: a long, long line of commuters, all waiting to purchase the mandatory heart-shaped box of gourmet chocolates before heading back to the suburbs. And every year, the line stretched around the store, down the MetLife corridor, and out into East 45th Street.
Surely these people could be better prepared come February 14th, armed and ready to greet their Valentines. If Godiva or any of the other chocolate brands had reached them online earlier with the right messaging, maybe they could have caught that earlier train home. In advance of Valentine's Day, let's take a look at the presence of these chocolate companies on social and across the web. 
Listen to the (chocolate) heart
We created a listening report for the biggest Valentines brands to see which ones are getting the most traction. The brands included are Cadbury, Dove, Edible Arrangements, Ferrero Rocher, Ghiradelli, Godiva, Harry & David, Hershey's, Jacques Torres, Lindt, Mast Brothers, Russell Stover, and Shari's Berries. Along with the brand name, we included the limitation "AND valentine" in our query to capture the mentions explicitly talking about Valentine's Day.
Here is a snapshot of where the brands stand at the beginning of February. 
And here is the breakdown of the full number of mentions.
The top trending keywords for these brands together with "AND valentine" are: coupons.com; walgreens; deals. This makes a lot of sense–many of the stores and pharmacies that sell these brands offer coupons and deals leading up to Valentine's Day. We'll see how this shifts as the brands become more aggressive in their owned campaigns in the coming days.
The day after the Super Bowl, Godiva shot up in mentions. To figure out why, we opened the Godiva section in the listening report. You'll see the top mentions are news sources that picked up a press release announcing a campaign called "Game Over, Game On." The campaign plays on the bridge between the Super Bowl and Valentine's Day, starring comedian Rob Riggle. Now that the Super Bowl is over, it's time to get ready for Valentine's Day, says Godiva. Football fans can still "get their game on" by "scoring" this Valentine's Day.
Filtering to just the social sources, you see Godiva's messaging around the theme of the campaign, along with a slew of users who are entering a related sweepstakes. From there you can click through to see the posts.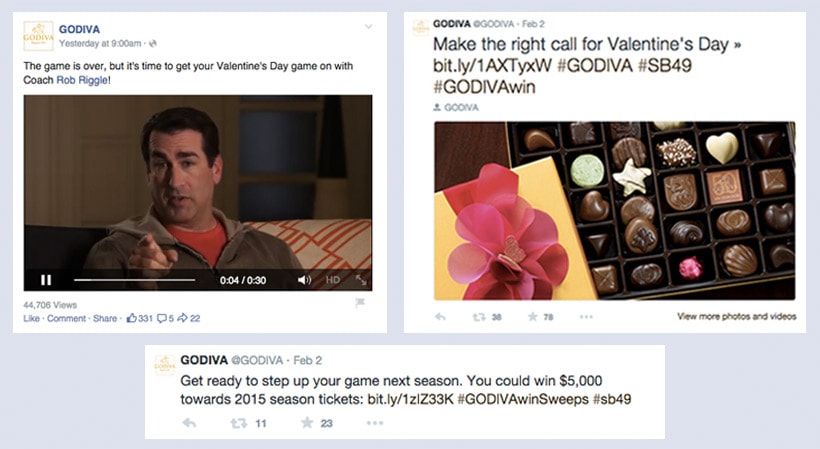 We'll see if this campaign will continue to allure closer to Valentine's Day, or if Godiva just got ahead early.  
How do you measure love? 
Sure, there are plenty of engagements happening on Valentine's Day, but how about social media engagement? (Sorry.) We can assess how these brands are leveraging their owned media by looking at the reach and engagement of their Facebook pages.
Notably, Russell Stover—owner of the Whitman's chocolate sampler, far and away the biggest Valentine's seller of all time—doesn't operate any social media channels. So much potential there! And meanwhile, the cutesy candy Sweethearts (with the different messages printed on each heart-shaped candy) has an inactive Facebook page, and posts from its parent page Necco to 12k fans. (How fun would managing the Sweethearts page be? "BE MY FAN," anyone?)
Here is an overview of the total likes these brands have on Facebook, almost 10 million fans between eleven of them. Note that Jacques Torres and Mast Brothers, two of the more artisanal brands on this list, have a much wider reach than the maker of those ubiquitous Sweetheart candies.
Now here is a look at the engagement levels across the pages. You can tell that February 1st started a sprint towards Valentine's Day—and they're off!
 Jacques Torres is currently in the lead, posting three to four times a day with photos of a variety of Valentine's options from their shop.
Necco, coming in second, has started posting lots of playful Sweethearts photos. The limited fans Necco does have definitely want to hear more from these conversational hearts.
I love you [first name, last name]
The fact that there are still huge companies like Russell Stover with such a sparse digital presence means there is still huge growth to be won on social. As some brands play catch-up, others will become more advanced in their messaging and targeting.
You might find that brands are going to get more and more personal in coming Valentine's Days. Is that such a bad thing? If a chocolate brand reaches you on social and sways your purchase decision, you'll be better informed, possibly entertained, and more convenienced: which means, no more waiting in an endless line at the last minute.
Have you seen any romantic Valentine's creative, chocolate or otherwise? Let us know on Twitter.
Cover photo credit: Fruition Chocolate
Content Distribution Guide
Download and learn how top brands boost their distribution.