Last year, Instagram shoppable posts were launched in the US, allowing a small number of companies to tag products in their posts. In March 2018, Instagram rolled out shoppable posts to 45+ countries and counting, plus any approved brand or influencer who uses Instagram Business.
In this article, we are going to take a look at exactly what Instagram shoppable posts are, how they can benefit your business, and how to set them up. We will also consider some case studies, notably from our client Finish Line, to see how successful they really are. 
Also see: Instagram Video Ads: Best Practices for 2018.
An introduction to Instagram shoppable posts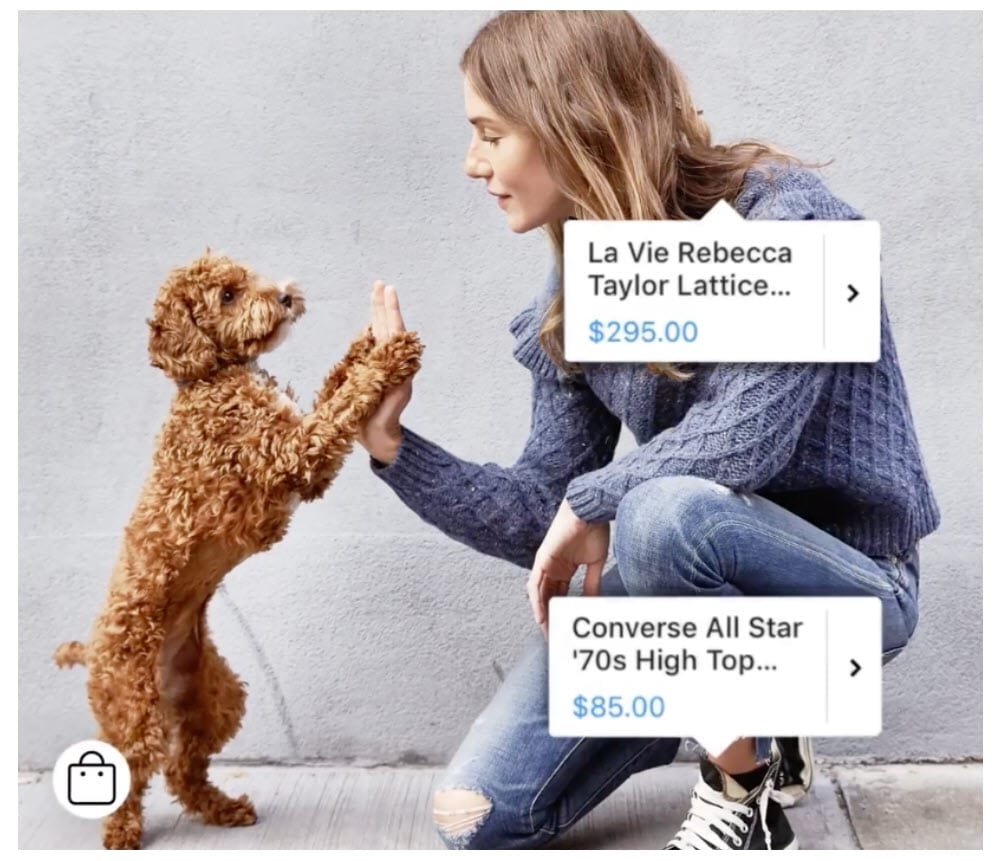 Instagram shoppable posts are changing the way people shop. Up until recently, adding a link to an Instagram bio was the only organic way for e-commerce stores to drive traffic from Instagram to their landing pages.
However, with shoppable links, suddenly brands have been given the opportunity to turn their Instagram accounts into visual stores, adding product tags and information to their images and linking to product web pages.
Once a business has set up Instagram shoppable tags (we'll cover how to do this shortly), a shopping bag will be displayed in the corner of each shoppable image.
When people hover over the image, the product tags will appear, displaying the product label and price.
Instagrammers can click on these shoppable tags to access further information about the product.

Then if a viewer is keen to make a purchase, they can click through directly to the product's web page.
This streamlined shopping experience is a revelation for Instagram users and an extremely exciting development for e-commerce stores or any other businesses that want to make sales through Instagram. Consumers simply see – tap – shop, creating a fast, natural progression from browsing to buying.
The potential of Instagram shoppable posts is clear to see, so let's now find out how to set this feature up on your website.
Also see: How to Create the Perfect Professional Instagram Bio.
Getting started with Instagram shoppable posts

Setting up Instagram shoppable posts is relatively straightforward, but there are quite a few steps in the process. Let's take a look…
1. Convert your Instagram account to an Instagram Business account
If you are a business, brand or influencer using Instagram, then upgrading your Instagram account to business is a must. Not only will you be able to add shoppable tags to your images, you will also be able to promote posts, create ads, access Instagram Insights, and much more with Instagram Business.
To convert your Instagram account to business, you will need to connect it to your Facebook Business page. Simply open your Facebook Business page and select Settings > Instagram. You will then be asked to Log In to your Instagram account.
This action will sync the two accounts and upgrade your Instagram profile to a Business account.
2. Create a product catalog in Facebook

The next step in the process is to create a product catalog in Facebook. Firstly, make sure you are using the Shopping Facebook page template. This can be found under Settings > Edit Page > Templates.
Once you have selected the Shopping template, you will have access to the Facebook Shopping attributes—one of which will be a Shop section.
Select Add Product and then follow the instructions for uploading images of your products, adding prices, writing descriptions and linking to URLs of product pages.
You will now need to wait for Facebook to approve your account, which can take anything from a few hours to a couple of days. It is worth noting that if you have multiple catalogs from different businesses you should consider using Facebook Business Manager to create your catalogs.
You can also create a shop on Facebook through Shopify or BigCommerce.
3. Add shoppable tags on Instagram

Once you have received a notification from Instagram telling you that your account has been approved, you will be able to start using Instagram shoppable tags in your posts and Stories.
First, open the Instagram app and select Settings > Business Settings > Shopping. Then, choose the catalog you created in Facebook and press Done. You can now start tagging posts with products from your catalog.
To do this, either create a new post or select an existing post and press Edit. Select Tag Products, then tap on a product within the image and tag it with a label from your Facebook product catalog.
You can currently tag up to five products per image, or up to 20 products per carousel. However, if you are using more than one tag per image, make sure each tag touches the right product so as not to confuse your viewers.
When you have added all appropriate tags, hit Preview and then Share the post.
As you can see, once you have set up your Facebook catalog, tagging your Instagram posts is a quick and easy process.
Now to finish off this article, we will take a quick look at a few case studies to find out if Instagram shoppable posts actually work…

Do Instagram shoppable posts work?
At first glance, Instagram shoppable posts look like a winner for Instagrammers and brands alike. Instagram now boasts over one billion Instagram accounts that are active every month. Of these, 200+ million Instagrammers visit at least one business profile a day and 60% of Instagrammers say that they discover new products on Instagram.
This makes Instagram a key platform for brands, businesses, and e-commerce stores. But just how effective are shoppable tags at generating business? Let's find out.
Case in point: Finish Line
We talked to Kimberly Nguyen, a Digital Content Strategist at US footwear retailer Finish Line who's deeply enthused with the possibilities of Instagram shoppable posts.
"Our goal across our social channels is to educate our followers so they don't miss out on any new incoming products. Shoppable posts on Instagram give our followers more insight on the products that we feature," she said, adding:
"In today's market, our consumers do a lot of research. They look at ratings, reviews, sneaker blogs and other publications to stay up-to-date on what's hot. If we can give them the exact product name and style/color in our posts, it makes things easily accessible for them. Once they tap the post, they get access to our product pages and other posts that are shoppable from our feed."
For Kim, the beauty of Instagram shoppable posts lies in their being "real, easy, and fast for our customers."
"Our relentless commitment and attention to these pillars will make our customer experience more authentic as we hope to build trust with every interaction and every touchpoint."
Some more success stats from global brands
Here are some stats from other businesses who have already seen results with Instagram shoppable posts:
Excitingly, at the start of June, Instagram started testing product stickers in Instagram Stories as well. Currently, this feature is only available to select businesses, but it will become more widely available in the next couple of months.
Also see our on-demand webinar: The Anatomy of a Successful Instagram Ad Campaign.
Final thoughts on Instagram shoppable posts
Evidently, Instagram shoppable posts are already having an impact on businesses traffic and sales.
Instagram is no longer simply about inspiring its users. It is slowly transforming into a full-blown shopping channel—and one you can't afford to miss out on.
Infographic: Best Times to Post
Optimal days and times to publish content in 2018 for Facebook, Instagram, Twitter and LinkedIn - all in one beautiful infographic.