Many people who use Facebook for business don't use Facebook Business Manager or even know what it is. They simply set up a Page for their business and use their personal account to manage it.
While this may work for solo entrepreneurs or very small businesses, even they should consider setting up a Facebook Business Manager account. There are plenty of benefits to making the switch to "gray Facebook" as we like to call it, from increased control over user roles to improved security.
In this article, we'll be making the case for why Facebook Business Manager is more than just Facebook's boring brother-in-law. We'll also walk you through how to set up an account. But first, let's start with the basics…
What Is Facebook Business Manager?
Business Manager is a central hub that lets you manage your Pages, ad accounts, and team members all in one place.
If your coworkers, ad accounts, and business Pages are planets, Facebook Business Manager is the sun they all rotate around.
In short, if you use Facebook for business, Facebook Business Manager is the way to do it.
In Business Manager, you can add users to your ad accounts and Pages and set their level of access. You can also create Facebook Pages, Instagram accounts, Page posts, and ads within Business Manager.
Facebook Business Manager lets you control all of these features from one place. Source: Facebook Business
Plus, you can see detailed analytics about your Page and ad performance within Business Manager. Not only that, you can also share assets such as images, videos, and product catalogs across all users and accounts connected to your Business Manager.
To sum up, Facebook Business Manager has a wide variety of features you should be aware of, including:
Administration of user roles, account access, and ad account finances
Asset sharing among multiple team members and departments
Product catalog creation
Metrics about Pages and ad accounts
Native publishing for ads and posts with accompanying analytics
Basically, Business Manager is a box you can use to organize everything related to your business on Facebook.
You may be thinking that your current setup in the "blue Facebook" is working just fine. Why bother switching and putting in the time and effort when you're managing your organization smoothly with your personal account?
Well, there are actually quite a few advantages to setting up Facebook Business Manager that you probably haven't considered.
Why Use Facebook Business Manager?
"Gray Facebook" provides a lot of value beyond helping you organize your business's presence on Facebook more smoothly.
To go a little deeper, we sat down with social media marketing consultant and Facebook Business Manager expert David Lorentzen and asked him why organizations should set up a Business Manager account.
Q: First off, who should be using Business Manager and who doesn't need to bother?
David: If you spend money on Facebook, set up Business Manager. It's better than using a personal account in terms of legality and ownership.
Q: What issues do you often see arising for organizations that use personal Facebook accounts to manage Pages, ads, and assets rather than using Facebook Business Manager?
David: When it comes to ad accounts, individuals can't transfer ownership if they leave the company. But you can easily transfer control over ad accounts through Business Manager. Also, I often see organizations where people create fake shared Facebook accounts to use for administration—that's a huge security risk. If the account gets shut down or someone loses the password, access to the company's assets, ad accounts, and Pages is gone.
Q: Are there any legal reasons companies should set up Facebook Business Manager?
David: Absolutely. With the implementation of the General Data Protection Regulation (GDPR), you should have all your assets under your company legal structure to establish ownership. Also, if a person within your company uses their individual ad account to create a Facebook Pixel, for example, they would legally own all data collected by the Pixel.

With the EU's GDPR now in place, companies need to ensure they legally own their Facebook data. If you claim all parts of your organization's Facebook presence through Business Manager, you clearly establish ownership. 
Q: Why should people add their Facebook ad accounts to a Business Manager account instead of just connecting them to their personal Facebook?
David: It's a matter of ownership, especially for big companies. If your CMO has the company ad account connected to their personal Facebook and they leave the company or are let go, you lose access to the ad account.
Q: Any other reasons to switch from administering your company's Facebook affairs on your personal account to doing so through Business Manager?
David: You can keep your personal life separate from your professional life by using Facebook Business Manager. You don't need to 'friend' colleagues or people at the agency you're using to connect them to Business Manager, and you won't get notifications about your company's Page or ads in your free time (though some people like that). You have a totally distinct new profile.
So there you have it, folks—Facebook Business Manager is better for your company in terms of organization, legality, security, and work-life balance. If you're still not convinced it's worth setting up an account, wait until you see how easy it is.
How to set up Facebook Business Manager
Setting up Facebook Business Manager may look intimidating because it has so many bells and whistles, but in reality it's a fairly straightforward process—and we're here to walk you through it.
First things first, you'll need to create a Facebook Business Manager account. Here's how:
1. Go to the Business Manager homepage and click Create account in the top-right corner.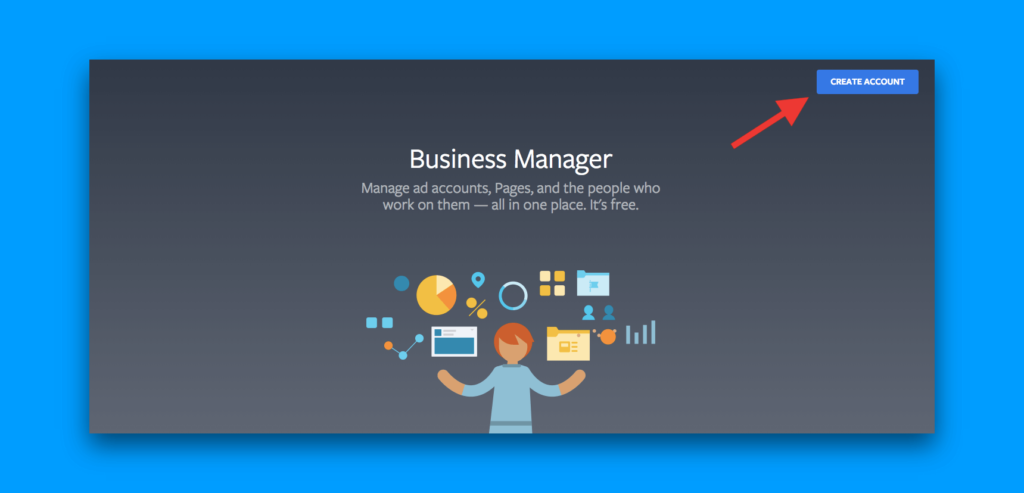 2. Enter the public name of your business, your name, and your business email address, then click Next in the bottom-right corner.
3. Fill in the address and homepage of the office you're running your business from and specify whether you're on Facebook to promote your own products/services or to provide services to other businesses (i.e. agencies, consulting firms, etc.).
Boom. Your account is made. Our recommendation now is to start by adding one Page, one account, and one user, then building from there. So let's get to it and add your first Facebook Business Page.
Note: this next section assumes you already have a Facebook Page for your organization—if not, you can either create a Page through Business Manager or through your personal Facebook account first.
How to add a Facebook Business Page to Business Manager
1. Click on the menu at the top-left corner of the page and select Business Settings on the right-hand side under Settings.
2. On the left-hand side of the page under Accounts, select Pages.
3. In the Pages menu that opens, click the blue Add button to the right and select Add a Page.
4. Enter the name or URL of the Business Page you want to add to your Business Manager account and select it from the list that drops down, then click the blue Add Page button in the bottom-right corner.
5. If you're already an admin on the Page, your request will be approved automatically and the Page will appear in your list of Pages. If not, your request will be sent to an admin for approval first.
Congratulations. You just added your first Page to Business Manager. Easy, right? Now here's how to add your first user.
How to add a user to Facebook Business Manager
1. Still within Business Settings, select Users in the menu on the left-hand side, then select People.
2.  In the People menu that opens, click the blue Add button to the right. Enter the work email of the person you want to add, then under Assign Business Role, select whether you want them to have full control of the business (admin access) or be limited to an assigned role (employee access). Then click Next in the bottom-right corner.
3. If you're only granting employee access to the user, you can now select which of your Pages, ad accounts, product catalogs, and apps the user has access to by clicking to the left of each. 
4. You can also select the level of access they have to each Page or ad account from the dropdown menu to the right of the Page/account name, ranging from Page analyst to Page admin (see more information about Page roles and ad account roles in Business Manager). 
5. Once you've selected all the desired roles for the user, click the blue Invite button in the bottom-right corner to complete the process.
6. The user will then receive an invitation to work on your page in their email inbox which they can accept by clicking the blue Get Started button in the body of the email.
That's all there is to it. Now you've created your Business Manager account, you've got your Facebook Business Page connected, and you've got your first employee set up.
There's just one more key thing to do to get your Business Manager up and running: add your ad account.
How to add an ad account to Facebook Business Manager
1.  Under Business Settings, Select Accounts, then Ad Accounts beneath it.
2. In the Ad Accounts menu that comes up, click the blue Add button to the right.
3. If you have an existing ad account connected to your personal Facebook account, select Add an Ad Account at the top of the Add menu and enter your Ad account ID number, then click the blue Add Ad Account button in the bottom-right corner.
4. If you don't have a Facebook ad account yet, you can quickly create one by selecting Create a New Ad Account at the bottom of the Add menu. You can now enter a relevant name for the account, select which business the account will advertise for, and pick your time zone, currency, and payment method. Lastly, click the blue Create Ad Account button in the bottom-right corner.
Business Manager: The best way to organize your business
Facebook Business Manager offers loads of advantages over relying on a personal Facebook account.
You can separate your work life from your private life. You clearly establish ownership of assets, Pages, ad accounts, and more under your company. You have total control over user access to your Facebook presence. Plus, setup is extremely straightforward. What's not to love?
Take the time to switch administration of your company to Business Manager—you won't regret it. After all, it beats writing the username and password to a shared Facebook account down on a napkin and then losing it (yes, we've heard of that actually happening).
And speaking of Business Manager, it has some amazing capabilities for running ad campaigns on both Facebook and Instagram. For smart Facebook Ads Manager tips and tricks, check out the awesome webinar below:
Webinar: The Anatomy of a Successful Instagram Ad Campaign.
Everything you need to know to create amazing IG ads.