Having established one of the world's largest messaging platforms, Facebook Messenger monetization appears to be next on the social media giant's agenda. Roughly 1.3 billion people use Facebook Messenger every month, representing a huge untapped market.
In the constant push for revenue, Facebook has been seriously investigating how they can leverage their user base. But Facebook Messenger monetization offers opportunities for social media marketers too.
Here are five things you should know before planning your first Facebook Messenger campaign. And for more 2018 trends you should know about, read on here or check out this handy infographic.
1. Facebook is rolling out Messenger ads

Messenger ads work across all platforms compatible with the app. Source: Facebook.
Using experience gained from running the world's largest social network, it is perfectly logical that Facebook would attempt to monetize Messenger through advertising. Facebook is leveraging what they've learned from users' social network profiles to present ads in their Messenger conversations.
There are currently three types of Facebook Messenger ads on offer:
1. Destination ads that look like any other News Feed advertisement but offer customers an opportunity to message your brand rather than clicking through to a landing page.
2. Sponsored messages that appear in the user's inbox, not unlike a direct message from your brand.
3. Home section ads that are presented on the user's dashboard as soon as they open the Messenger app.
Facebook Messenger ads take social selling to the next level, as they are primarily designed to engage customers in a conversation.
2. Facebook promises no handling fees

Messenger users can now transfer money via PayPal within the app. Source: Fortune.
In an attempt to emulate the success of China's WeChat service, Facebook has also begun testing ways to facilitate transactions through Messenger. In October 2017, for instance, a new feature was released allowing users to send and receive payments from their PayPal accounts directly through the app.
Another development saw TD Ameritrade Holding providing a mechanism for account holders to trade equities through messages. These transaction-based apps show that Facebook Messenger for business could be a realistic prospect for generating revenue as well as a useful tool for social media marketing.
Importantly, Facebook is subverting expectations, refusing to charge a handling fee for transactions carried out using Messenger. Most analysts expected Facebook to follow WeChat's lead (they charge a 0.1% handling fee for transactions carried out across their network), but this does not appear to be the case.
But as with any service, this could change at some point in the future.
3. Users may not appreciate in-app ads…

Over 1/4 of internet users now have some kind of ad blocker. Source: Marketing Land.

As digital advertising reaches its saturation point, a customer-led backlash against intrusive ads has begun to gather pace. In the UK, nearly one-third of users employ ad-blockers for instance, while the global average is believed to be around 26%.
Social media marketers will need to plan their Facebook Messenger ads very carefully to avoid upsetting potential customers. Although most people accept that seeing ads is the trade-off required to receive free web services, many regard messaging apps as a more private technology—and blatant attempts at Facebook Messenger monetization through in-app ads could be seen as an invasion of privacy.
As with all social media marketing campaigns, successful Facebook Messenger ad campaigns will rely heavily on knowing and understanding each individual customer and their preferences. These insights can then be used to craft well-targeted Messenger ads based on those insights.
4. …But they do appreciate messaging brands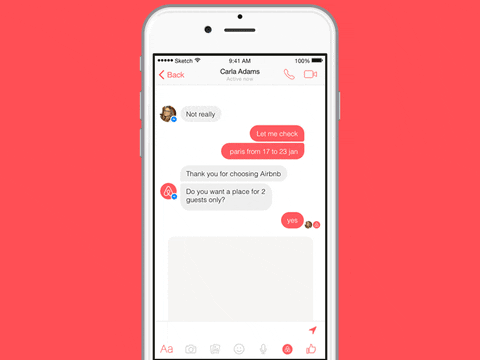 Airbnb offers a variety of booking features through Messenger. Source: GIPHY.

In some cases, Facebook Messenger monetization may not come directly from the app at all. Instead, expect to see Messenger become another important communications channel by which brands and customers connect.
What does that mean? The modern digital customer likes to receive answers and assistance as quickly as possible. According to Nielsen Research, 53% of customers are more likely to shop with a business they can message directly. And 56% prefer live text chat-type systems to phone calls when seeking customer service.
The first step in a successful Facebook Messenger ad campaign will be to promote your live chat service. And this will be most fruitfully achieved through standard Facebook ads that invite customers to connect directly with your brand via Messenger, rather than through a typical landing page target. Once connected, you can then use that initial relationship (carefully) to begin marketing via the Messenger platform too.
5. In-app purchases are already a reality


Messenger now allows users to order Uber rides. Source: Facebook Newsroom.
Facebook Messenger apps provide another monetization option. Rather than expecting customers to download a dedicated app, brands can instead build apps that integrate directly with Messenger.
Take Uber for instance. Using a Messenger app built with the Transportation on Messenger feature set, customers can now hail an Uber without the dedicated Uber app. This may not be Uber's main source of revenue, but the Messenger app providers another entry point for potential customers.
Burger King has implemented a similar feature, allowing customers to order food directly from Messenger, then pick it up in a nearby restaurant. Customers can also pay for their order in advance, all without the need to install a dedicated Burger King app.
Notably, Facebook does take a handling fee for in-app purchases—30% to be exact. This overhead will need to be factored into the overall cost of any Facebook Messenger monetization project.
A developing platform
Facebook Messenger monetization is not straightforward. The fact that Facebook does not appear to have a clearly-defined strategy makes it difficult for brands to build their own. There are clearly some interesting projects underway, but for many organizations, starting Messenger ad campaigns will be a process of trial-and-error experimentation with relatively small returns—at least initially.
No matter how the landscape changes, some things will remain the same. A good understanding of the customer as an individual, along with their personal preferences, will be vital to crafting Facebook Messenger campaigns that convert. And as always, these insights need to be in place before any ads are published.
15 Trends to Watch.
Is your marketing strategy ready for this year?