Would it be foolish to define your audience once and for all and expect them to remain the same forever?
Oh yeah, big time!
Finding your right target group is a journey.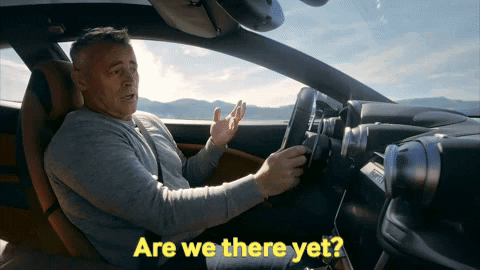 For successful results, you need to consider your target audience as a dynamic entity with continual shifts in values and beliefs.  This means constant revisiting and adoption of your defined target audience and a reality check if the current attributions are still sufficient.  However, before you go on to revisit your strategy, you need to first get to know your target audience.
So, let's take a step back and start at the beginning of our journey – our path to finding the right target audience. And when I talk about finding the right target audience, I want you to go beyond gender, age, geographic, income, and general interests. These five characteristics won't suffice if you want to know more about the people you want to talk to.
Create a mind map with characteristics you think you know about your target audience(s). Consider their lifestyle, their thinking, and their place within society. Find out what defines your target audience and their connection to your brand. Take these characteristics and create a mood board. Include images and descriptions and give your target persona(s) a name(s).
It could look something like this: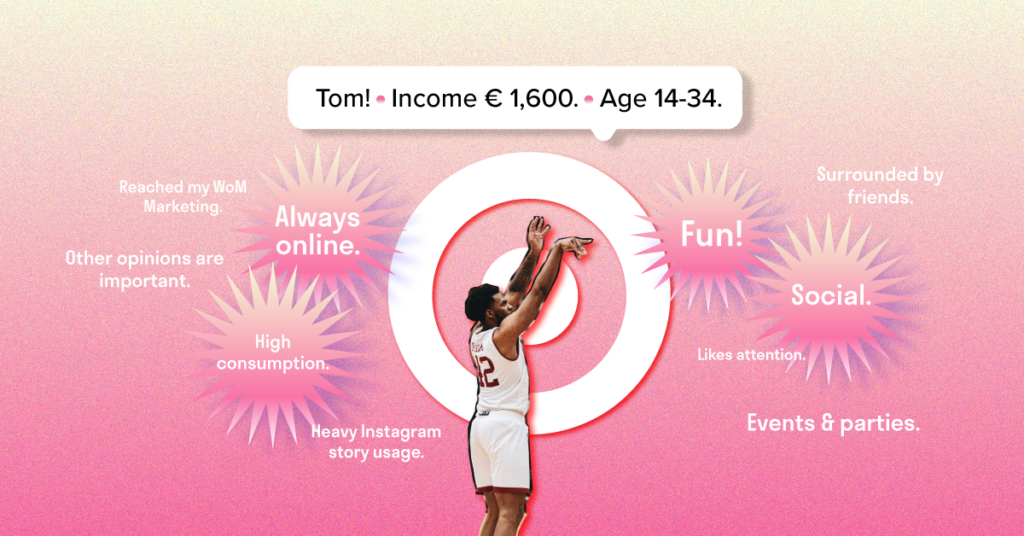 Inspired by Zukunftsinsitut Lifestyle Neo Hippie 
Here are the 3 steps you need to follow to find your target group:
1. Build hypotheses and test them
Once you've built a detailed mood board of your target groups' lifestyle and interests, you need to translate them into various hypotheses. With these hypotheses, you can then go to the market and test them. Remember, it is important to find out if you even know who our target group is or if you only assume to do so. 
Since the 'Tom' we defined above is very active on Instagram, this is where we want to go to find the profile(s) we are looking for. These 'Toms' can either already be within your fanbase or be a potential audience you want to reach in the future.   Find a sufficient amount of people (20 people should be enough to get started. Remember, quality over quantity😉) and dive into the first exploration.
In the first step, you can have a loose conversation with a set of questions built around your hypothesis. Dive deeper into their lifestyle, ask them what makes them believe and fall in love with a brand, and what do they think about your brand.  
2. Meet your target group 
The second step should be including meeting these people face to face. Invite them for a day where you can watch their behavior and confirm or deny your hypothesis. It seems like a large effort to meet with your target audience in person, however, this is where you get a lot of additional insights you would not get otherwise.

You will find interesting and detailed insights into how they think, behave, and what they expect from a brand. Take your findings from the day and rework your target persona(s).  
3. Test your findings 
After you've redefined and extended the findings of your target audience, you should look into testing it on a larger scale. Also, remember to compare your new marketing persona with the content you are producing and consider possible adoptions based on your findings. Running ads allows you to get measurable results. With your goals and objectives as well as your new marketing persona in mind, start creating a new campaign.
Remember to connect the targeting as close as possible to the characteristics and lifestyle of your Tom. Tom, for example, is interested in events & parties, however, targeting events & parties wouldn't be enough. We need to dig a bit deeper.   What events and parties would that be? Probably those that are known on Social Media (he is a heavy Social Media User).   So, let's target people that are interested in well-known and socially attractive festivals and parties (Coachella could be one of them). This is the kind of mindset we need to get into if we really want to reach our target audience on social. 
Once you've successfully launched the campaign, compare your results with your old advertising activities to see how successful your retargeting strategies are or if you need to tweak it even further. 
Want to learn more about mastering your target audience?  Talk to a strategist today!
We joined the OMR 2020 digital masterclass program, and together with Dr. Hauschka hosted a session on mastering your target audience. The recording and slides are available in German.