After paying $26 billion for the social media platform in 2016, Microsoft has been aggressively developing its LinkedIn marketing services.
The tech giant aims to capitalize on the platform's 500 million users—even if only a quarter of those actually engage with LinkedIn monthly.
In theory, at least, it should be an open goal for Microsoft. LinkedIn caters exclusively to a b2b market unlike Facebook, Instagram, or Twitter.
It's an enviable audience, one made up of major businesses, thought leaders, influencers, and recruitment agencies who connect and share with one another.
If you're interested in marketing on LinkedIn, we also recommend our Comprehensive Guide to B2B Marketing on LinkedIn
Playing to its strengths
Better still is the sheer volume of metrics LinkedIn offers to help create targeted marketing campaigns. Forrester Research's Jessie Liu explains: 
"More than most social networks, LinkedIn has very robust and deep user data. It's collecting your location, educational history, professional history, and interests. That makes it far more valuable than, say, Twitter."
The quality of the LinkedIn marketing audience is exceptional as well; Pew research shows that half of college-educated Americans online are on LinkedIn.
LinkedIn users tend to be more educated and have higher average incomes than the general population. Source: Pew Research Center.
On top of that, 45% of LinkedIn users have household incomes of over $75k per year. So how is Microsoft setting about actually realizing the huge potential of LinkedIn for business?
Goodbye YouTube & Vimeo
While the arrival of LinkedIn video last year felt like a case of 'thanks for finally joining us', it means marketers can now post native LinkedIn videos up to 10 minutes long. The network's algorithm promotes these videos over other content types, as research shows that video posts are shared 20x more than any other content. 
And the icing on the cake?
75% of business execs watch work-related videos each week, presenting a market ripe for mobilization.
This potential has already led savvy marketers to create mobile-optimized video content that promotes enterprise activities such as company events and product launches.
By spreading such videos across members' feeds, marketers are able to access powerful data sets including the viewers' titles, companies, and geographical locations to generate leads and optimize future marketing campaigns.
'Ad' value to your videos
LinkedIn is already testing sponsored video ads and will make them available to all businesses in the first half of 2018. Source: Adweek.
But the social network isn't stopping there, going even further by launching LinkedIn video ads.
With trials already underway, the social network is creating opportunities for sponsored video content that appears alongside other LinkedIn content.
Uploaded via Campaign Manager or a company/showcase's pages, LinkedIn video ads can be promoted as part of an overall content campaign, using targeting tools based on member profiles and LinkedIn Matched Audiences (more on that later).
Critically, advertisers can access key metrics such as view counts and views by completion rate with more video-specific metrics expected soon.
Acing audience access


The LinkedIn Audience Network allows marketers to target users even outside of the platform. Source: LinkedIn.

LinkedIn advertising already offers several ad variants for enterprise, ranging from sponsored InMail to self-serve, dynamic, and text ads. Again, LinkedIn is doubling down on these offerings with its host of recently launched ad services.
The LinkedIn Audience Network enables marketers to reach beyond news feeds to target LinkedIn members on other websites based on demographics or behavioral groups.
The new service's initial results have been promising—the beta program saw participants average a 3-13% increase in unique impressions plus an 80% increase in unique clicks.
And then there's LinkedIn Matched Audiences (LMA), an ad service that offers three key features.
First, marketers can retarget visitors to their website.
Second, account targeting enables the targeting of key decision makers at specific businesses.
Third, contact targeting allows marketers to target sector decision makers using existing company email lists or imported CRM data.
The upshot is that wherever a prospect is, sponsored content can be delivered directly to them. And LMA is proving to be highly effective; for instance, marketers deploying account targeting have experienced a 32% increase in conversion rates plus a 4.7% decline in cost per click.
All roads lead to leads


LinkedIn Lead Gen Forms (LGFs) streamline lead generation by automatically filling in users' contact information for them. Source: LinkedIn.
It's common knowledge that LinkedIn already excels in b2b lead generation; 93% of b2b marketers regard the platform as the best website for creating leads, generating more for b2b enterprise than Facebook or Twitter individually.
The platform's track record in lead generation has been enhanced further by LinkedIn Lead Gen Forms (LGFs).
Instead of requiring members using the mobile app to enter their details via a fiddly contact form, the app automatically inserts their profile information, only requiring the member to hit the 'Submit' button.
It means zero-friction for the user and, critically, marketers benefit from the form's in-depth profiles, which offer deep-dive details on the lead including job title, seniority, location, and more.
Based on LGF's pilot, this streamlined process saw 90% of marketers beat their cost-per-lead (CPL) goals and enjoy lower CPLs compared to traditional Sponsored Content campaigns.
2018: Now or never?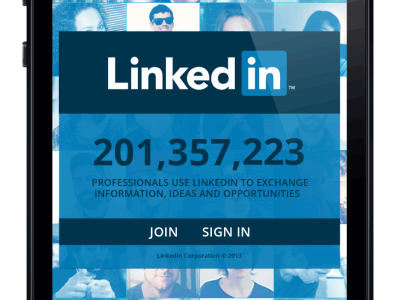 LinkedIn currently has over 500 million users and counting. Source: GIPHY.

There's no question that LinkedIn has come out fighting lately, determined that this year will be the one where the platform's disparate strengths are pulled together into a single, cohesive suite of powerful tools for marketers.
It's seeming more and more like 2018 will be the year of LinkedIn—or at least LinkedIn marketing.
The fear for owner Microsoft must surely be that if LinkedIn marketing doesn't become one of the year's social media success stories, then it never will. Instead, LinkedIn could potentially remain social media's underdog, chained to an image of an also-ran network unable to keep up with rivals, no matter how loudly it barks.
Only time will tell if LinkedIn will become indispensable for marketers this year. But the odds are looking pretty good.
Think you'd like to give LinkedIn marketing a go? Here are the basics of posting and replying to comments, as well as the best times to post on LinkedIn.
The Essential LinkedIn Guide for Marketers.
Discover how to reach the people that mean business on LinkedIn.