We love to use our listening tool to find the newest insights into what's working in digital marketing, industry by industry (nerds alert!).
This week we're asking, which cruise lines made a splash this summer?
We're listening in to mentions of Aida, Carnival, Celebrity, Disney Cruises, Oceania, Princess, Norwegian, Royal Caribbean, and Voyages to Antiquity using Falcon's listening tool. By monitoring what is working to expand brand reach in the cruise industry, other travel companies can glean best practices for the web.
Is it any surprise that Disney Cruises is ahead of the pack?
This graph depicts total mentions of these nine brand names across social media, blogs, the news, and review sites. 
An interesting pattern occurred over the past month, when Disney blew the competition out of the water on three distinct days (the three purple spikes). So what did the Disney Cruises marketing team do so well on July 27th, August 14th, and August 19th?
Don't miss the boat
We can look at the sources of these mentions to find where they originate. Then we dive into the spikes to find what campaign creative worked for the specific traffic source. 
The first spike on July 27th is from mentions in blogs, with 1,428 mentions of Disney Cruises across the blogosphere. The results all point to a promotion by Twinings Tea–"Win a free Disney cruise"–which was picked up and shared by contest scouting blogs.
Looks like giveaways, sponsored by a partner brand, work really well for the cruise industry.
But there was no mention of this promotion, which was by far the biggest digital success for an entire industry over the past week, on either the Disney Cruise or the Twinings social channels! The only share from social media was from an unofficial Facebook page that aggregates Disney sweepstakes. There's so much room to use social media to reach more people with this kind of promotion.
May the force (of Twitter) be with you
Looking at the second spike for Disney Cruises, which happened on August 14th, the traffic source came from social media–56% of its total mentions coming from Twitter.
Clicking through to the top mentions, there was one tweet that was retweeted fifteen times, generating tons of reach for Disney Cruises.
A writer for StarWars.com, Amy Ratcliff, had tweeted a sneak peek from Disney's D23 Expo, teasing art to adorn the new Star Wars areas of their cruise ships.
This one tweet worked to dominate any mentions of cruises on that day. Disney should pay attention to what works here: having fans and advocates draw out these cool details of its ships.
No more booze cruise
The biggest spike in the past month happened between August 19th and 20th, sourced from social media. Two things happened–one, a press release announced that the cruise line was teaming with its video game wing Disney Infinity, news of which was retweeted many times on Twitter.
The second was Disney Cruise's announcement of a new alcohol policy, restricting carry-on beverages going forward.
Fans took to social media to express their grievances. Why would an expensive cruise make the vacation even more expensive, forcing riders to rack up pricey bar tabs? Taking a look at the Disney Cruises Facebook page, the posts since the announcement are more engaging than ever. Cruisers are debating the new policy in the comments.
What's missing? The company's voice. Disney has yet to jump into the comments to respond to the criticism–the brand should be equipped to address its customers, especially on its owned channels. Their customers are demanding to talk about the new policy changes, and Disney has the opportunity here to take control of the conversation.
Set sail for brand control
Using social listening to monitor what works for the cruise industry gives us a total view of what can move the needle in digital marketing, for any industry.
When you can point to one tweet, or one Facebook post, or one blog post, that causes a spike in mentions–you get very specific intelligence for what content works, and on what channel, to extend brand reach and conversations around your brand.
Are you monitoring your brand across the web? The quick insights gained from listening are proving to be invaluable for any modern marketer. Set up listening for your all aspects of your business, and in no time at all you'll be cruising into the sunset.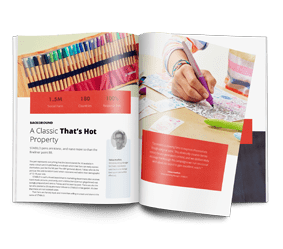 Build an Engaged Community
Learn how STABILO manage their social communities incl. almost 1 million fans.