Recently, at the CSMNY conference in New York, Hershey's presented their strategy for monitoring conversations around topics of interest and the resulting opportunities for reacting real-time. According to Kevin Hack, Head of Social Intelligence, Global Digital Marketing Advancement, the company managed to see differences across the board in just 9 months. They also have begun to scale the program and encourage adoption throughout the entire organization. Even though in early-stages, the brand successfully proved the power of its monitoring strategy this Christmas, when, due to their insights and early warning, they turned what could have been a major PR crisis into an award-winning campaign. 
Hershey's real-time recipe = processes+tools+teams
How do they do it? Kevin explained that they started by building a listening command center that helps them monitor each brand. As intimidating as that might sound, you don't need a massive team to achieve this – Hershey's intelligence team is just 4 people, and they managing all listening across 50+ brands. They just put the right processes, tools, and teams in place.
It all starts with company buy-in. You must first convince the higher powers in the organization about the value of investing in such a project. Once you achieve this, the next vital step is to educate and embed those processes across the organization. Social data is best when out of its silo – don't limit it to just the marketing or PR departments. Use data across the organization and see how all the other departments can benefit from it. Gradually, as Hershey's noticed, all other teams started seeing the value of these insights in their own activities, and became advocates of the solution. Various teams have introduced some of these monitoring activities into their KPIs and play active roles in keeping the brand name strong.
Kevin also emphasized that a very important aspect of their activities is the actual planning and processes that come before they even start monitoring.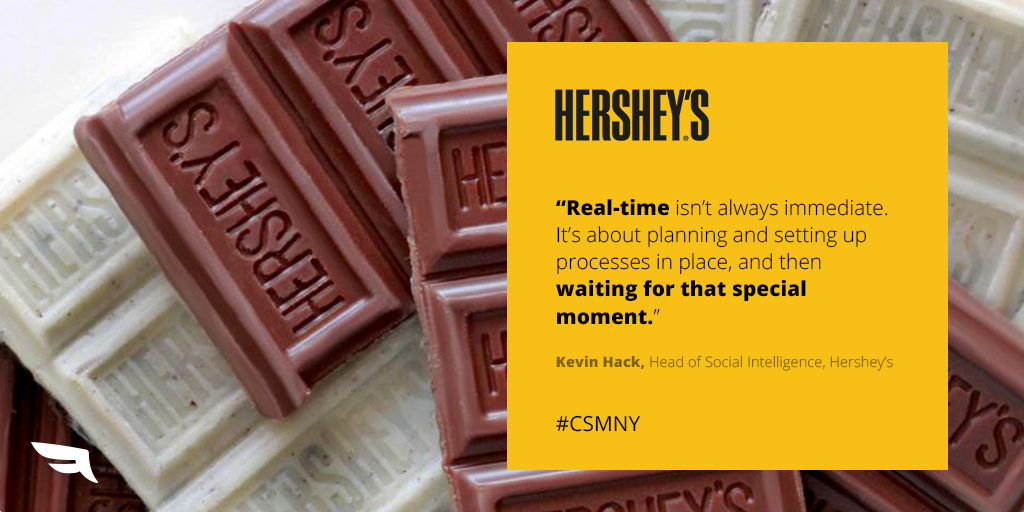 The data you receive is only as good as you set it up to be – so look into what's actually relevant for all the aspects of the business.
The Hershey's team set up templates called "Social Media DNA Buckets" for each of the 50+ brands they manage. Within these templates they focused on several key areas, for example campaigns, influencers and events. Next, they embed these into their tools and technology, in order to uncover the right keywords to listen to. The results of those queries allow team members to instantly spot opportunities where they can jump in and activate each brand.
Crisis or Opportunity?
Their most notable recent case is the infamous "Reese's Trees" incident. Every year, Reese's produces themed-shaped candy for all the major US holidays and this Christmas, the company reintroduced Reese's Christmas Trees, a crowd favorite since 1993. What was intended as a jolly campaign quickly turned negative. The candy's misshapen appearance proved to be a Twitter favorite, with buyers across the US tweeting complaints, memes, and innuendos. Due to their already set-up process and cross-functional teams, the company spotted this early-on and kept a close eye on the situation. Once the media started picking up on the social buzz and exponentially increasing the exposure, the Hershey's team knew they had to react. By using quick wit and great knowledge of their audience, the brand created one of the most famous cases of crisis-to-opportunity. What started with one brilliant post turned into a whole campaign, generating brand advocates and millions of pieces of user-generated content.
The campaign, known as #AllTreesAreBeautiful (or #TreeGate) resulted in massive positive reactions from a consumer standpoint, as well as over 1 billion earned impressions and most importantly sales for that product during the year.
In addition, Reese's used 1:1 engagement on social to defuse the situation – they did not focus on the mishap, yet used self-effacing humor and well-thought replies to defuse the charged spirits. Audiences loved the personalized interaction and attention, and most ended up agreeing that the taste is what matters.
Besides delighting fans, #AllTreesAreBeautiful won this year a Webby Award/People's Voice for "The Best Use of Social Media" and a Silver Lion in the PR "Digital & Social: Response/Real-Time Activity" category at Cannes Lions, proving once again the value of Hershey's agile marketing strategy.
Cultural relevance = successful brand marketing. A look at @ReesesPBCups evolution featuring #alltreesarebeautiful pic.twitter.com/xbYAqCJOm8

— The Hershey Company (@HersheyCompany) June 10, 2016
What can marketers learn from this?
#1 – Listen. If you aren't monitoring your brand, products or industry, you are at a disadvantage. It's important that don't limit yourself to direct mentions – social media users want to express themselves quickly, so a good portion of them will not spend the time finding your handle or hashtag. A good understanding of your audience will allow you to identify possible scenarios, phrases and keywords that even though don't use the brand name directly, have a clear association or correlation to it.
#2 – Actively engage. Show your community that you are there to support their needs. Answer their comments and show your involvement. Having a social media solution that allows you to directly and quickly reply and interact with all sorts of reactions can prove to be priceless.
#3 – Don't focus on the negative. Chances are, you might get faced one day with negative comments or difficult situations. Before you jump straight in, take a second to consider your actions. It is true that consumers expect fast replies – but they also expect smart and helpful ones. Reese's could have posted a general apology, yet the brand managed to see the opportunity behind the situation.
#4 – Connect with your audience. Connecting with fans on a one-to-one level is one of the major wins of the #TreeGate campaign. It might seem like a lot of effort, however it paid off big for the company. Audiences were amused and delighted by the special attention, the incident was turned into a positive experience, and fans even spread the word about Reese's epic comeback. So turn your attention to your fans, and constantly aim to improve their experience with your brand, no matter the situation. It will be the gift that keeps on giving.
#5 – Connect the dots. Smart marketers know that you cannot make sense of a situation by understanding just one point in the conversation. You need to be able to look at the complex and interconnected picture of your social interactions with your audience and create actionable insights from all your data. Reese's bet on the funny side of their audience, and it paid off big. But was it really by chance? They might not have known beforehand how the particular campaign would go, however, it is safe to assume that they knew from past experiences that their fans would react positively to well-timed humor.
Prevent rather than cure
Operating in real-time and setting a listening strategy in place is not limited to large corporations or enterprises. All brands can create their own monitoring tactics that best fit their interests and their audience's behavior. The best piece of advice from us: Don't get caught off guard on social – plan for the unexpected, create a response strategy, and always be on the lookout to discover any issue that might occur, before it turns into a crisis.
Header & in-blog images: Hershey's
The Ultimate Guide to Social Media Marketing.
A comprehensive resource for all social media professionals.