Election campaigning can be a tall order in Denmark, mainly because Danes don't like Twitter.
The recent UK General Election taught us that Twitter is becoming integral to political campaigning in other parts of the world, but for some reason, Denmark is trailing behind the Twitter wildfire. It's estimated that there are currently only 260,000 engaged Twitter users in Denmark (compared to 15 million in the UK). And not being able to use hashtags or real-time Twitter updates could be bad news for a humble politician scrambling for votes.
Throughout the recent Danish election campaign, current Prime Minister Helle Thorning-Schmidt (leader of Socialdemokraterne) and Lars Løkke Rasmussen (leader of Venstre) have held a steady monopoly over news coverage, presenting a very real challenge for the smaller parties desperate to have their message heard. This is a classic story that almost every brand can relate to:
How can you reach your audience when you're a tiny fish competing with the heavyweights?
In the Danish election, the smaller fish used Facebook video.
Here at Falcon, though we won't comment on the content of the parties' arguments, we're closely following the battle for social engagement – and the Danish Election has shaped up to be an exciting competition. But why Facebook video?
#1 – Choose your channel wisely
In contrast to Twitter, there are 3 million Facebook users in Denmark (fairly major for a country with a population of 5.5 million), making Facebook the prime channel for engaging potential voters. The social teams behind the competing parties have definitely risen to the Facebook challenge during the campaign, and we've been listening in from the sidelines with some anticipation.
At first glance, our benchmarking data in Measure shows that Thorning-Schmidt and Rasmussen are dominating the Facebook game as expected. Both leaders have maintained a steady lead in the battle for the most Facebook followers on their named pages. No surprises there. The Prime Minister has also managed to stay firmly ahead of her competitor.
The Prime Minister and her main opponent's popularity on Facebook confirms that this is where the fight is. There would be no use in smaller parties targeting other channels as it's clear their target audience is already plugged in to Facebook.
Diving a little deeper into the data, we can see that the competition understand this completely. And while social data isn't enough to definitively forecast votes, we can get an understanding of which smaller parties are garnering the most sincere social response.
#2 – Push boundaries with your format
Looking at the trajectory of new page likes gained by the Danish party pages over the month, Alternativet and Liberal Alliance stand out for overtaking Venstre and Socialdemokraterne. The two underdog parties (represented by the orange and purple lines) have consistently been gathering more new Facebook followers than Venstre and Socialdemokraterne throughout the election campaign.
So how did they pull this off? The answer is knowing how to be innovative. Liberal Alliance (LA) have replaced the age-old leaflet and paper manifesto with a video manifesto, broken down into bitesize chunks that can be shared and promoted as Facebook posts.
Liberal Alliance går til valg på en gennemregnet www.2025plan.dk, som giver et friere, rigere og mindre bureaukratisk Danmark.Hør Anders Samuelsen fortælle om planens højdepunkter hér.

Posted by Liberal Alliance on Tuesday, May 26, 2015
Almost every video features party leader Anders Samuelson, speaking directly to his audience, with any complex concepts illustrated around him with graphics. This is the moving image equivalent of using the word 'you' in copy, the viewer is involved, it feels personal, and most importantly, relevant. What could be a long, boring and heavy message has now become relatable, and fun.
Where other parties have chosen to bombard their audience with statistics, or things that the Prime Minister has done wrong (yawn), LA have chosen to illustrate their vision with moving infographics, making their message digestible, and above all, memorable. This is going to be difficult to ignore. Voters might not remember the exact percentage of economic growth that Denmark has experienced under Helle Thorning-Schmidt, but they will remember a cool video with fun graphics.
#3 – Be human
Unpacking the Facebook data on engagement levels, there is another unlikely star shining through. Kristian Thulesen Dahl, leader of Danske Folkeparti (Danish People's Party), has surpassed all the other party leaders in garnering the highest level of proportional engagement with his Facebook page.
Although not everyone agrees with his message, Dahl has also succeeded in racking up the highest percentage increase in Facebook engagement over the past month.This makes his Facebook content officially the most engaging to Danish Facebook users than the other party leaders.
Again, Dahl has achieved this through a video strategy that supports his brand persona. His strategy consists of putting out a series of clips showing him out in Copenhagen, delivering his message whilst walking amongst ordinary people. As before, Dahl combats the usual opposition slating and statistics recitals by humanising his brand with a personable video format. And this is what speaks to his audience.
Strategic or naked, it's your choice
John Eric Wagner, an independent candidate hoping to be elected for Prime Minister, chose to engage his audience by posing naked and circulating the pictures around the city. While the stunt has stirred up a media storm, it hasn't amounted to a huge amount of Facebook success for the hopeful 52 year old. Getting naked might be funny, but it isn't the right brand message for engaging your electorate.
Understanding how to communicate a relevant message to your social audience, in a memorable and fun way should be the driving force of any brand's video strategy. Think about how to break down your message into something bite-sized, and shareable. Think about the type of personality your audience wants to engage with. If you can do these things on the right channel, your video strategy will speak volumes above the rest.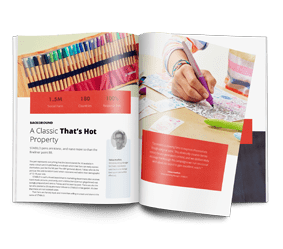 Build an Engaged Community
Learn how STABILO manage their social communities incl. almost 1 million fans.