It's no secret that organic reach and engagement have been declining for brands on Facebook. After all, just last month Facebook announced that it would lower organic reach for branded content to prioritize posts from friends and family.
Without organic reach to rely on, this means that brands will have to invest more in ads or sponsored posts on Facebook to sustain reach. But here's the problem with that: Facebook ad space is running out, and ad prices are going up.

Facebook's ad costs are finally starting to grow faster than their number of ads. Source: Bloomberg.
Starting in the middle of 2017, Facebook's cost per ad grew faster than the number of ads in News Feed. What does this mean for social media marketers?
Basically, as the amount of Facebook ad space becomes limited, demand exceeds supply. This means there's more competition for each ad that shows up in News Feed, so advertisers can expect prices to increase as a result.
But why is Facebook ad space becoming limited? Will this affect ROI for your brand? Let's dive in to get a closer look at the situation.
Why is this happening?

CFO David Wehner recently stated that Facebook's ad load maxing out would limit revenue growth in 2018. Source: Facebook.
In mid-2016, Facebook CFO David Wehner issued the following statement on the future of the company's ad load:
"We anticipate ad load on Facebook will continue to grow modestly over the next 12 months and then will be a less significant factor driving revenue growth after mid-2017. Since ad load has been one of the important factors in our recent strong period of revenue growth, we expect the rate at which we are able to grow revenue will be impacted accordingly."
To translate from Finance-speak to English: around mid-2017, Facebook began running out of places to put ads in News Feed. Obviously, this creates a bit of a problem for SMMs, especially since organic reach for brands' pages is already pretty limited.
But how could Facebook "run out" of places to put ads in News Feed if they control how much content appears in News Feed to begin with? Well, it comes down to user experience.
After all, it's simple math. According to Facebook, every time the typical user logs in, there are about 1,500 posts that could appear in their Feed. Facebook's News Feed algorithm then selects the 300 most relevant posts for that user.
While the algorithm doesn't affect ads the same way it affects organic posts, there is still a limit to the ratio of ads to organic posts the average user is willing to accept before they get fed up with their Feed.

Facebook users are only willing to tolerate so many branded posts in their feeds. Source: Facebook.
Facebook execs have seen the writing on the wall: although the number of monthly active users on the platform surged to over 2 billion last June, they've also recognized that those users need a reason to stick around.
The amount of user generated content on Facebook has been declining in recent years, but studies have shown that posting status updates makes us feel more connected and that being active on the platform lights up the brain's reward center.
So what's the solution?
Focus on encouraging users to be more active participants on the platform, and limit the number of non-personal posts that show up in their News Feeds.
In summary, Facebook is worried that if users' News Feeds feel too 'spammy', they'll spend less time on the platform. That's likely part of why they made the decision to prioritize personal posts over branded content this year. That's also why they're putting a cap on the number of ads in News Feed.
Focus on what really matters: ROI.
Here's the thing: just because ad prices for News Feed ads are growing faster than Facebook ad space doesn't mean that ROI on Facebook ads will decrease. Here are a few reasons why:
1. Video has more real estate (and higher ad value)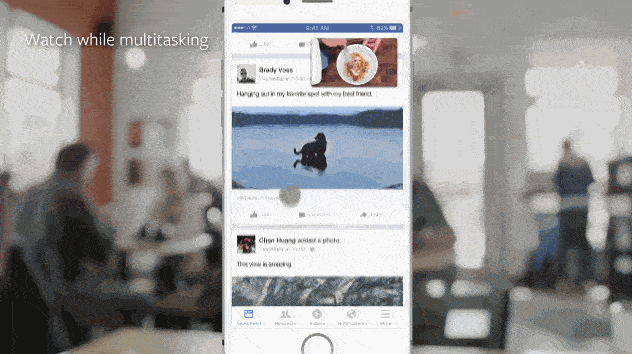 Over the last year, Facebook users have seen video take over their News Feeds. Source: GIPHY.
The typical Facebook user sees fewer posts than they did a couple of years ago, but they spend about the same amount of time browsing News Feed (or longer). How is this possible?
Simple: video content is taking up more space in News Feed and catching users' attention for longer periods of time. So while the number of branded posts that can appear in News Feed may be at a maximum, the amount of time they spend watching video ads is on the rise. Basically, they're trading Facebook ad space for ad time.
Facebook is starting to insert ad breaks on its native videos the same way YouTube does. It's also prioritizing long-form videos more in News Feed.
So, users get more quality time with video ads, and the ad price on the video is higher than standard ads because they deliver a higher ROI. And at the end of the day, it's a good tradeoff—after all, Facebook video ads are still cheaper than ads on TV, YouTube, Pinterest, or Snap Direct.
2. News Feed isn't the only part of Facebook

Mark Zuckerberg talks about the future of Facebook's product ecosystem at the F8 Conference. Source: Facebook.
When Facebook says they're hitting an ad load ceiling, that really only applies to ads that appear in News Feed. They still have a huge, mostly untapped market in the other platforms they own, like Messenger, WhatsApp, and Instagram. They're also likely to keep expanding their advertising to other platforms in the future.
Facebook's monthly active user base continues to grow, and they are increasingly monetizing their other platforms. Taken together, these factors mean that in the medium- to long-term, they should not have an issue finding places to put new ads.
And despite the short-term slowing of their revenue growth, they have a lot of potential for future growth given how dominant they are in the digital marketing arena.
3. Targeting is getting better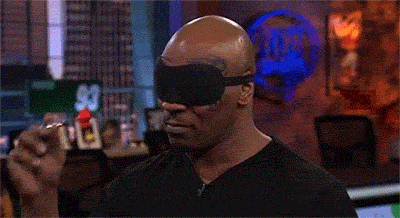 Source: GIPHY.
You may pay more for Facebook ad impressions this year, but that doesn't mean your ROI will go down. According to our in-house Facebook expert Mikael Lemberg, your cost per impression will likely go up in 2018…but your cost per conversion may actually decrease.
How could such a bonafide miracle be possible? Well, we kind of gave it away in the subheader—Facebook's ad targeting is getting better.
Facebook can't compete with other digital marketing giants like Google if their ads don't deliver the same ROI or better. Right now, a majority of digital marketers are planning to increase their Facebook and Instagram ad budgets in 2018 and 2019 while slightly decreasing their Google ad budgets, indicating that Facebook ads are still a solid investment.
Your cost per impression will likely go up in 2018…but your cost per conversion may actually decrease.
Essentially, no one really benefits from advertisers paying to reach users that are not relevant to their business. So Facebook's strategy is simply to counter increasing ad prices with unprecedented targeting accuracy, ensuring that every single paid impression creates value for the advertiser.
So yes, you may pay more per ad, but in terms of scaling up your campaigns, that may not be a bad thing as long as you're getting the same conversion rate and your ROI continues to improve.
All's well that ends well

Imagine the baby is Facebook's long-term business prospects. Source: Facebook.
At the end of the day, it's probably a good thing that Facebook isn't going to fill users' News Feeds to the brim with paid content from brands. If Facebook ads became too overwhelming, they could start driving away potential customers in droves.
Facebook ad space is hitting a ceiling due to a conscious decision by the company. And if we're being honest, it's a wise one. Like the recent move to prioritize posts by friends and family, the cap on Facebook ad space is an investment in the long-term health and growth potential of the platform.
Zuckerberg and co. are willing to sacrifice short-term revenue gains to make sure users have a high-quality, enjoyable experience with the platform. It's hard to quantify exactly what that's worth, but if the ad load ceiling keeps Facebook alive and stable as an advertising platform, that's a good thing for all of us.
The Essential Facebook Guide for Marketers.
Download the guide to learn everything you need to know about advertising on Facebook.