We love Instagram Stories as an extra dimension for your brand's visual identity. Stories can enhance your account as a creative channel, or pivot completely from a carefully curated aesthetic and allow your followers to get to know your business even better.
Last month, the number of active users on Instagram Stories reached an estimated 250 million users — per day! By spending a little time on your strategy, you can tap into this audience and use it to stand out, gain followers, and increase your brand awareness.
If you're considering creating an Instagram Stories strategy for your brand, you may be wondering, "How much effort should I really put into content that's a maximum of 15-seconds long, and disappears in just 24-hours?"
The answer is: as much as you can!
The Instagram Stories product is almost a year old and generates a daily mountain of lo-fi content that's simply meant to entertain or informally share personal moments. However, businesses can be strategic with content, and build a channel of consistent, quality work that will boost the brand.
Even though each story has a short lifecycle, a stream of good content will continue to attract new viewers, and retain them as your audience grows.
To create a strong channel:
Create visually appealing content in a vertical layout
Map out a 15-second storyline with a quick beginning, middle, and end — or with a punchline or twist — to keep viewers engaged
Use Stories' features to give relatable context, such as short captions that mention what you're doing, or a location tag to show an industry event you're attending
Use features neatly to avoid adding "noise" to the Stories your viewers consume
Be consistently creative and funny if it's relevant for your brand — this is a chance to capture attention and entertain!
If you think of Stories as "episodes" on your brand's channel, it helps to help keep your Stories cohesive and worth following. Once you start to build up a quality channel, you'll want to continue to grow your audience and increase your reach.
To gain new followers and retain them:
Always choose quality over quantity
Find your cadence and post consistently to stay top of mind for your viewers
Use Instagram Stories' location tags and hashtags in your content to be found in Search
While it's important to make yourself easily discoverable, sticking to a consistent tone in your Stories will allow new followers to better connect with your brand. Since Instagram Stories don't appear in your regular feed or grid, you can compliment your Instagram tone with a more personal or playful Stories tone, and still grow a relevant, qualified audience.
To increase your brand awareness:
Use Stories to preview your upcoming content or events — tie it to your editorial and event calendars
Offer your audience access to an inviting, behind-the-scenes view of your business
Find accounts and Stories you enjoy, and remember to give them a like and leave them an authentic, complimentary comment
Tie shorter clips together with sound, or continual visuals
Thank or acknowledge other people or brands with @ mentions in your posts
Red Bull wins on Instagram Stories
The Red Bull Instagram channel is an amazing reflection of Red Bull as a megabrand. Their success on Snapchat carried over to Instagram Stories, where they tap into their creativity and extreme sport events for fun, young campaigns. This week, they featured Red Bull X-Fighters, a freestyle motocross event series with an unbelievable visual presence in a "Helium Braps" campaign.
The first Story in this campaign is just 5 seconds, and shows a motocross ramp flip and a night sky view of the Plaza de Toros Las Ventas Stadium in Madrid. The Story has a simple title, "The Best Helium Braps from @redbullxfighters" with a clickable mention. The next story is a mid-air flip still shot with the call to action "Send us your best brap!" (If you didn't know what a brap was, it's the sudden, staccato-like burst of an engine — I'll save you a Google search.)
The third story is of Australian freestyle rider Harry Bink on a bike, sounding like he was just sucking helium and making bike noises. The story tags @harrybink, which provides a clickable link to his profile that already boasts 47K followers. Then there's a clip of 2 girls goofing around on a bike, and a last clip of Maikel Melero, Spanish freestyle rider, emptying a helium balloon into his mouth, with another clickable mention.
In these five clips, Red Bull leverages their seven million followers and their sports brands and personalities to build 23-second storyline that is rich in engagement opportunities. While three out of the five clips are very informal, all are shot vertically, present well on mobile, and use music or sound to continue the story.
Ready to plan your Instagram Stories strategy? We think these points can give you a solid head start — and Falcon is the first social media marketing platform to support Instagram Stories! Click below to check out Falcon's Instagram publishing capabilities, and let us help you build a social strategy that converts.
For more Instagram strategy tips, you can get inspiration from the best brands currently using the network. Or, check out these 21 pointers on how to massively increase your Instagram engagement.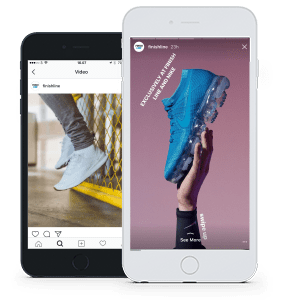 Instagram Publishing With Falcon.
Plan, create, and collaborate on your Instagram strategy, including stories, videos and images.