No marketers need to be convinced of the power of Instagram as a means of engagement. With a billion+ users worldwide, Instagram can be an amazing platform for telling your brand's story in a creative, visually inspired way.
Or, it can be a minefield of humiliating goofs, blunders, and gaffes.
Humorist Sam Levenson once said, "You must learn from the mistakes of others. You can't possibly live long enough to make them all yourself."
Hard to disagree with that. And the more missteps you learn from, the fewer social media marketing fails you'll make yourself. With that in mind, we've found 15 of the most cringeworthy, offensive, or just plain embarrassing Instagram marketing mistakes by companies.
Once you've enjoyed the gaffes, discover how to do Instagram the right way with The 11 Best Instagram Photo Editors You Need to Try and 21 Tips to Increase Instagram Engagement.
1. Sunny Co. Clothing promises free swimsuits, creates public outrage
Sunny Co. Clothing just wanted to promote their new Baywatch-themed swimsuit, the Pamela. So, they decided that everyone who reposted and tagged their promotional picture within 24 hours would receive a free $65 swimsuit:

Source: @sunnycoclothing via Instagram/LSB.
What they didn't anticipate was that the picture would go viral, with over 3,000 people reposting the image within a few hours. The company just couldn't keep up with demand, and soon their inbox was swamped with angry customers who feared they wouldn't get their swimsuit in time to dress up for the midnight premiere of the Baywatch remake.
The company later issued a second post claiming that they had the right to cap the promotion "due to the viral volume of participants". Needless to say, this didn't exactly make their fans happier, and responses ranged from the furious to the satirical.
So, what's the takeaway? Even if you want your Instagram campaign to go viral, never make promises you can't keep—and that goes double for promises that involve giving away millions of dollars worth of free products.
2. Dolce and Gabbana's co-founder calls customers fat, stupid

Dolce and Gabbana co-founder Stefano Gabbana is infamous in the fashion world for his frequent controversial comments. One of his more aggressive and insensitive "marketing campaigns" took place in April of 2017 when he posted this picture of D & G's Fall 2017 sneakers:

Source: Teen Vogue / Instagram.
Instagrammers took offense to the shoe's loud statement "I'm thin & gorgeous!", complaining that it shamed people for not having an "ideal" body type. Gabbana further fueled this social media marketing fail by insulting his followers for criticizing the shoe in the comments: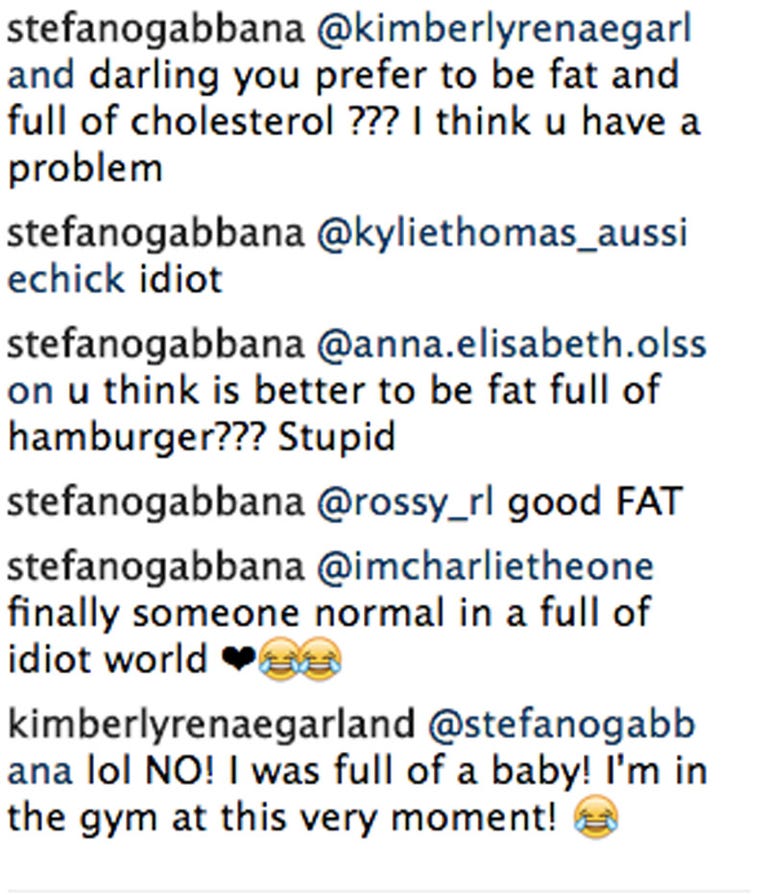 Source: Bazaar.
What can we learn from this? Your public comments on social media reflect on your brand, especially if you're high up in the company. Also, if you simply must blast out insults at your loyal customers from your personal account, please remember to proofread them first.
Also see: How to Get Verified on Instagram
3. Bootea Shake's influencer marketing campaign is a little too obvious

One thing about influencer marketing is that it should at least have the appearance of a genuine partnership. Not exactly the case in this embarrassing Instagram marketing mistake by professional hand model and former Keeping Up with the Kardashians personality Scott Disick:

Source: @letthelordbewithyou via Instagram/Cheatsheet.
Scott copy-pasted protein shake company Bootea Shake's suggested caption directly into his promotional Instagram post, including their directions to post precisely at 4 PM EST. Both Scott and the brand were quickly mocked by dozens of his followers. Sounds like a textbook Instagram mis-shake. 
Lesson learned: if you have influencer marketing plans, be careful who you partner with—make sure they're a natural fit for your brand. Customers can sniff out forced collaborations like blood in the water—and they're not hard to notice when your brand ambassador literally leaves ad copy in their post.
4. Little Mix includes editor comments in post selling branded perfume

Influencer marketing is a lot like dating–you need to be careful who you partner with, and you don't want your partner reposting your private messages on Instagram.
In an embarrassing flub a la the Scott Disick example above, British pop group Little Mix took social copy from the marketer promoting their branded perfume and put it into their caption verbatim.
Unfortunately, their shock at being featured on a taxi didn't come across as totally genuine once people realized it was written by a marketing department.
5. Vera Bradley tells women what they love

Purse and handbag designer Vera Bradley started their "Why It's Good to Be a Girl" campaign with the intention of celebrating women. However, modern consumers did not react well to such choice Instagram posts as "needing 5 shades of lipstick" or the amazing feeling you get "when a gentleman offers you his seat."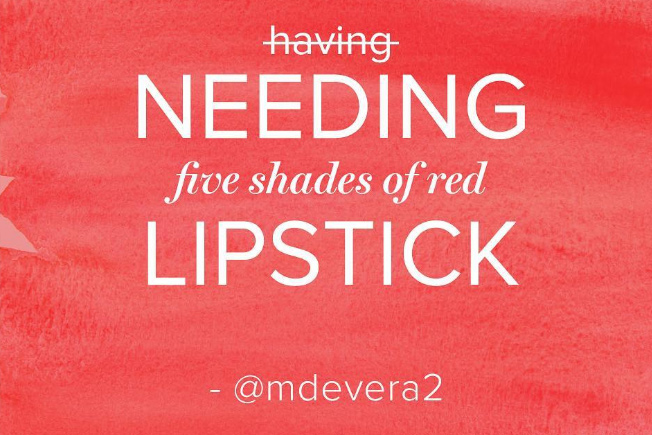 Source: Campaign.
The campaign was widely lambasted across social media for coming across as stereotypical and out of touch. Some reacted with irritation:
.@verabradley #itsgoodtobeagirl? Because patterned accessories are assigned a gender. Your ad campaign is disappointing.

— becca (@kaplan_rebecca) September 17, 2016
…and others left sarcastic comments: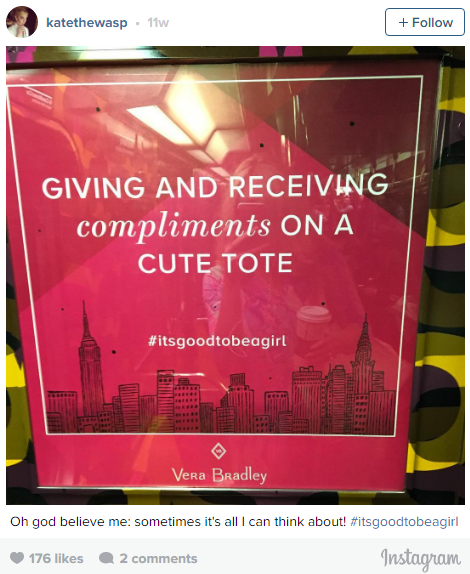 Source: @katethewasp via Instagram/Awario.
Maybe this ad campaign would fly in the 1950s, but not these days. Know your audience, respect their dignity, and be in touch with their beliefs and values.
6. Warburton's accidentally hijacks a furry hashtag

The internet is a minefield of strange hobbies and unique fandoms. So it's hard to blame wholesome British baking company Warburton's for not being familiar with furries, an online community of people who enjoy dressing up as anthropomorphic cartoon animals.

Source: Daily Mail.
Nevertheless, their holiday Instagram hashtag #CrumpetCreations, meant to highlight tasty recipes made by their followers using their brand's famous crumpets, inadvertently hijacked a hashtag used within the furry community. This caused anyone looking for Warburton's user-submitted crumpet content to be plunged into the world of furries:
Warburtons are running a Christmas competition on Instagram and have accidentally hijacked a furries hashtag. pic.twitter.com/dxDxwWYH4H

— heartbeeps (@hrtbps) December 11, 2017
While this wasn't entirely their fault, even a few minutes' research on their chosen hashtag could have avoided this awkward Instagram marketing mistake. So, before you launch your next hashtag campaign, don't be like Warburton's—just take a quick look and see if the tag is already being used by an internet fandom of people who like to dress up in cartoon animal costumes.
7. Nomadica wine repaints several entire houses, doesn't ask neighbors

Source: LA Guestlist.

Some marketers are of the opinion that all press is good press. If that's the case, LA-based canned wine brand Nomadica Wine was pretty successful with this viral Instagram stunt.
Nomadica promoted a new line of canned rosé by painting three abandoned homes in Mid-City, Los Angeles bright pink. However, in a big-time Instagram marketing mistake, event organizers failed to ask nearby neighbors if any of this was okay, drawing their fury along with that of many Instagram commenters.
Instead of apologizing, Nomadica and the artist they collaborated with simply called the project "a jumping off point for a conversation about community, development, public art, and social media."
For future reference, it helps to get permission for your Instagram art project before you launch. Also, when an entire community is upset with your brand, try to make things right instead of thanking them for starting a valuable dialogue.
8. Reformation models their dress in a clothing factory


Source: Instagram via Yahoo News
Instagram is a great platform for visual storytelling. That being said, you need to be careful with what story…you're telling.
Fashion brand Reformation had quite a bit of controversy on their hands when they advertised the return of their popular "guava dress" on Instagram with a photo of a model posing on a factory table as workers toiled in the background. As one commenter in the image says, "good works social media manager!"
At best, the photo came off as tasteless. At worst, consumers found it deeply offensive. On a platform as visual as Instagram, optics are everything. Hopefully next time their social media manager will take that into account.
9. Jenner sisters attempt to profit off of dead musicians


Source: Highsnobiety.
Keeping Up With the Kardashians stars Kendall and Kylie Jenner just wanted to showcase their favorite musicians and earn a bit of spare change. At least according to their lawyers.
The celebrity sisters attempted to market a new line of $125 fashion t-shirts on Instagram featuring a variety of musicians, including deceased rappers Notorious B.I.G. and Tupac Shakur. The only problem is, they had zero permission from either artist's estate. Oh, and they were attempting to rake in huge profits while leaving the rappers' families totally out of the picture. Biggie Smalls' (aka Cristopher Wallace) mother even called them out on her personal Instagram for using his likeness without asking:
Needless to say, this did not go over well with the Instagram community or the artists' families, leading the Jenner sisters to promptly pull the shirts in shame. So: check your Instagram campaign for copyrighted images before you launch it, and don't borrow dead people's likenesses without permission.
10. Benetton institutes a "no girls allowed" policy



Source: @benetton via Instagram/Revelist.
Excluding half the world's population in your social media marketing campaign is a major Instagram marketing mistake. Fashion brand Benetton recently caught heat on Instagram for posting this picture of three young boys modeling their Summer 2017 children's collection with the caption "sorry ladies. Girls not allowed!"
What was intended to be a cute attempt at humor quickly went south as Benetton's followers lambasted the caption for reinforcing gender divides among young children. Comments included "Girls not allowed, seriously how's your circa 1980 marketing team working for you!" and "It's 2017, let go of these B.S. gender roles. Let clothes be clothes."
The moral of the story: be careful making broad statements on social media about who should and should not use your products, especially when you're telling off an entire gender.
11. Ruffles chips inspires vegan ire
Ruffles chips recently attempted a half-hearted joke at the expense of vegans and vegetarians who opt out of eating turkey at Thanksgiving dinner. They originally posted this since-deleted image to Instagram with the caption "There's a reason tofu-urkeys are never pardoned."
Little did they know that Instagram is home to a large and engaged vegan community, who promptly started the #BoycottRuffles campaign in response to this perceived insult.
There's nothing wrong with throwing some light-hearted humor into your next Instagram campaign–just avoid mocking potential customers when you do it.
12. Lime Crime ignores website hack, then responds with emoji-filled rant on Instagram
Makeup company Lime Crime ran into quite a bit of controversy on Instagram when a large number of their customers complained that their credit card information had been hacked after purchasing goods through the brand's website.
Lime Crime denied claims that they had known about their security vulnerabilities for months and had done nothing about them. Then they published non-apologies on Instagram and Facebook. Originally, the posts were swamped with identity theft-related emojis like 💳 but were later deleted. Here's one of the original posts, sans emojis:

Source: Fake on the Outside.
Important lessons? Keep your customers' data secure (particularly if "Crime" is part of your brand name), and if you're thinking of making your public apology in the form of an emoji-ridden Instagram post, perhaps reconsider.
13. Trustyshoppe keeps repeating images…with slightly different text

It's often said that variety is the spice of life. With that in mind, it's important to keep your company's profile looking rich and varied to avoid the Instagram marketing mistake of redundantly redundant redundancy.
Reposting the same photo three times in a row with slightly different lighting or tiny changes to the text? Not the best way to hold customers' attention.
14. ColourPop makeup markets their products with racist names
In yet another style industry fiasco and massive Instagram marketing mistake, makeup brand ColourPop came under fire on Instagram for their racially insensitive makeup names. After all, two of the darkest shades of their new line of "sculpting stix" advertised on Instagram were entitled "Yikes" and "Typo". Source: ColourPop.
There was a huge outcry from the Instagram community given that these "sculpting stix" marketed to minority customers were named after synonyms for disastrous mistakes. But the only disastrous mistake here…was the racist marketing campaign itself.
The backlash reached Twitter, too, and commenters were not having it:
Please don't buy from Colourpop if you're black. Apparently your skin color is a "Typo" in their eyes 🤗

— britt (@flawsomee) September 19, 2016
The takeaways here should be pretty self-evident and go way beyond Instagram:
A) The easy one: don't have a racist marketing campaign.
B) The backlash incurred by tone-deaf product and brand names can easily go viral and blow up all over social media.
15. Z Palette bullies its customers for being poor
Like ColourPop and Ruffles, Z Palette realized things had gone really wrong for them on Instagram when users started a hashtag calling others to boycott their brand. On the bright side, at least they were trending!
It all started when Z Palette began an Instagram campaign advertising a lipstick de-potter. A few users complained in the comments that its $85 price point was excessive and they were met with the following replies: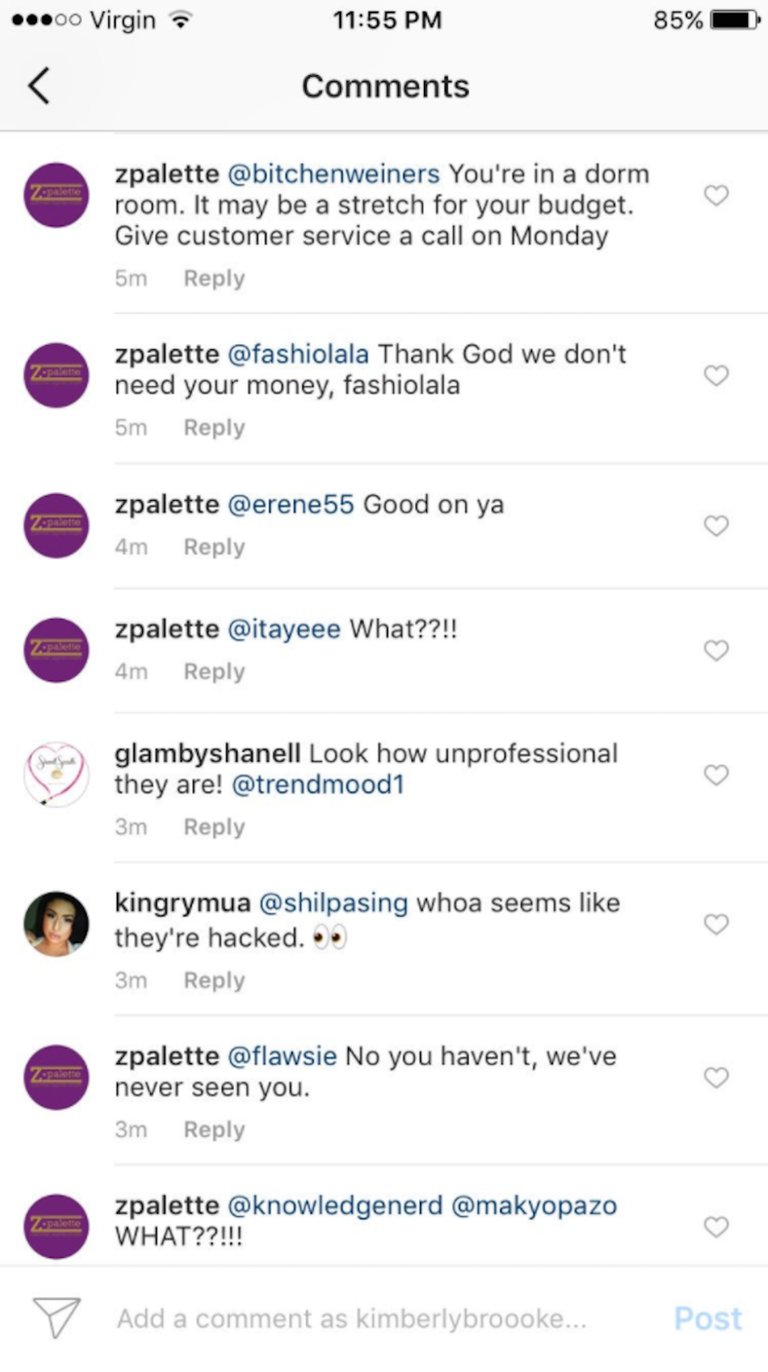 Source: Seventeen.
Yikes. This (and many other rude responses from Z Palette's social media manager) led to a #BoycottZPalette campaign taking off on Twitter and Instagram. That eventually led to a false apology from the CEO which was later deleted. In the end, several websites that carried Z Palette's products dropped them due to public pressure.
What's the lesson here? First, be polite to potential customers. Second, if you have a social media crisis on your hands, offer an actual apology and try to make things right with your followers. And finally, don't insult your customers, tell them you don't need their money, then mock them in a fake apology….I guess.
Enjoyed the article? For more tips on Instagram strategy, check out 11 ways to increase your organic reach. And the next time your competitor makes Instagram marketing mistakes like these, make sure you're prepared.