Instagram Stories now has over 500 million daily active users, and a large portion of that audience choose to view Instagram Stories created by brands. In fact, one-third of the most popular stories have been produced by brands according to Instagram.
So in order to understand how you could achieve similar success through your Instagram Stories strategy, let's take a look at five of the best Instagram Stories examples from brands that have managed to keep their followers from tapping past their content. 
Also see: 21 Tips to Massively Increase Instagram Engagement and 5 New IG Stories Features You Need to Try. 
J.Crew's Fashion Forward Pre-Sale
The clothing company treated its attentive social media users to an exclusive pre-sale of its new Jane in Pink sunglasses through Instagram Stories. J.Crew teased the launch of the new rose-colored sunglasses with a pink-themed photoshoot featuring staffers sporting the new style.
With only 50 pairs of the new sunglasses available during the pre-sale, the company created a strong sense of urgency around the limited-time offer.
Brand Takeaway: Try running a contest, promoting a sale, or offering a giveaway through Instagram Stories. This type of offer gives your brand the opportunity to reward your existing followers for their loyalty and engagement.
Lowe's Edutainment Hacks
When Lowe's debuted it's "Fix in Six" campaign on Vine (R.I.P.), it was regarded as one of the best uses of the format by a marketer. Now, the company has received similar acclaim for "hacking Instagram Stories" in a recent campaign.
The first episode in the company's Instagram Stories campaign shows a neglected space being transformed into an inspiring playroom for kids through 64 micro videos. The vertical room featured in the story perfectly fits the dimensions of the Instagram window, hence the "hack". Through the series of videos, Lowe's showcases its products and succeeds in making a DIY projects feel like a simple undertaking.
Brand Takeaway: Try to create content that fits the platform or medium you are publishing on. Philip Bock, CEO & Co-founder of Supervisual, recommended brands remember this point when he explained how to create engaging visual content for Instagram in an interview with Falcon.io.
Airbnb's Interactive Quizzes
Airbnb's Travel Tuesday series utilizes professional photographs and user-generated content from Instagram to provide its Instagram community with inspirational travel ideas. However, rather than just display the pictures of beautiful travel destinations around the world, the company transforms each photograph into an interactive quiz.
Viewers are asked to identify the specific destination shown in the story through the poll feature. (Instagram offers a variety of apps and filters that can help you create a similar effect.) And after the reveal, viewers are prompted to "swipe up" in order to activate the incorporated link that will direct them to the company's website. With brands facing increasing pressure to determine social media's ROI, having additional metrics, like Instagram traffic, is essential.
Brand Takeaway: Make sure to feature a strong Instagram Story CTA. Incorporating polls and links into your stories is a surefire way to increase engagement on Instagram. And by engaging your audience through different Instagram call to actions, you are also able to measure follower engagement on other metrics than just impressions.
Nordstrom Rack's Impromptu Fashion Show
Let's face it: A graphic designer can make almost anything look good after a few adjustments on Adobe Photoshop. But consumers often have trouble relating to this type of stylized imagery. So when Nordstrom Rack took followers behind the scenes during one of its fashion shoots, it gave followers a more approachable, unvarnished side of its brand. Furthermore, the candid stories gave followers a sneak peek of the brand's latest fashions, making viewers feel like they were seated front row at an exclusive runway show.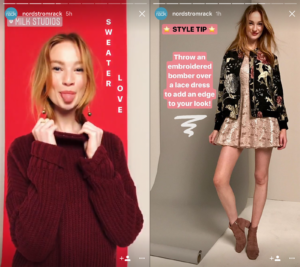 Brand Takeaway: Use Instagram Stories to go behind the scenes during brand events. Although the photos or videos captured during these moments might not be commercial quality, the unpolished posts will help create a sense of authenticity.
E! News' Snappy Stories
News isn't news if it's not delivered in a timely manner. And true to its name, E! News makes sure its followers get the latest celebrity drama by sharing news stories directly on Instagram Stories. Knowing that it's audience relies on the company to stay informed, these short news blasts are a simple way for E! News to deliver on its brand promise.
Brand Takeaway: Keep the needs or wants of your target audience in mind when sharing content. Strong social media monitoring can help you to identify how best to speak to your followers, and to build a conversion strategy optimized to their needs and preferences.
There are many different ways to approach building an Instagram Stories strategy, but now that you have an understanding of how other brands are driving engagement on Instagram Stories, hopefully you can find a theme that fits your brand.
And if you already have a strategy, but need help distributing your content on Instagram, then look no further than Falcon. You can now schedule and publish to your Instagram Business account directly from Falcon.
This is great news for social media marketers as it lets you plan, visualize and align your Instagram strategy alongside your other network posting – with the full transparency and quality control that only a content calendar can provide.