Social video content is dominating the attention span of your audiences.
According to the Nielsen Total Audience Report for Q1 of 2017, adults in the US spend an astounding amount of time per day consuming media. Roughly 10-13 hours each day are spent consuming media, with smartphone use high across all age ranges.
Are you considering incorporating video into your social media content? It's estimated that businesses are publishing an average of 18 new videos per month, with the most common types of videos being "explainers, product demos, how-to videos, and customer testimonials."
Recently, we covered the social video trends you should be aware of. Here, we'll talk about the different types of social video formats that you can use in your social schedules and their function within each channel.
Let's get started!
1. Live Video
Live social video offers a real-time perspective of your business, which viewers connect with. This unedited format builds trust and gives your audience a chance to engage with you directly, ask questions, and react to your video as it's filmed so you can see how it's landing. This is a smart format to give a behind-the-scenes look at your brand, showcase a big event or new product, or hold an interview with an industry leader who will grab engagement with your audience.
You can see more the benefits of using live video here.
Facebook: Facebook Live videos are carefully weighted within the Facebook algorithm to show up higher in a newsfeed while they are filmed. Facebook encourages users to inform their audiences about upcoming broadcasts ahead of time, to gain the biggest live audience possible. You can broadcast a live video spontaneously, or schedule it under the Publishing Tools tab of your Facebook Page.
Offering live content may also boost your page's presence within your audience's feed.
Pro Tips: Create a compelling description for your Facebook live video to give it context and draw a qualified audience. Engage with viewers by greeting them by name, and remind them to follow you to receive notifications of when you're going live. Facebook recommends a broadcast of a minimum of 10-minutes.
Twitter: Twitter live video is available for mobile and tablet users, and through Periscope, broadcasting from other external video sources to provide crisper, professional video. The audience is able to comment and send hearts in support while the video is broadcast.
Pro Tips: Practice your live video ahead of time, and don't be afraid to use scripts. Build anticipation by leading into something you'll reveal later. Twitter recommends a broadcast of a minimum of 10 minutes. Check out Periscope Producer for high-quality live streaming.
Instagram: Instagram video formats can be square, horizontal and vertical, but the best video format for Instagram live video is a 9:16 vertical ratio. Instagram live video is prioritized at the top of your audience's feed, so take advantage of this to offer them something they can only see by watching your broadcast.
Pro Tips: Do a test run and check the quality of your video. Don't be afraid to work with a script or outline to keep your message on track. Promote your broadcast across channels ahead of time to let your audience know when you'll be live. Save your video when you're done so that you can reuse the content!
2. 24-Hour Video
For quick video consumption, we look to formats such as Instagram Stories and Snapchat for short content that is viewed and then disappears, to be deleted from servers after 24 hours.
Snapchat offers paid advertising opportunities, creative paid formats like sponsored lenses and geo-filters, as well as a platform to build up an organic audience through storytelling and engagement.
Instagram Stories let users add mentions and hashtags to bring in a wider audience, and recently added a polling function to grab immediate audience feedback. Polls also disappear with the story after 24 hours, and poll results are viewable by swiping to open the viewers list, which shows which option got more votes, and how each viewer voted.
To add a poll to a Story, load your content, and then choose Poll from the top of your stickers list. Can't see the Poll option? Don't worry. Just go to the App Store and update Instagram. I had to update to version 19.0 and reopen the app before it appeared.
3. 360-degree video
360-degree videos use many cameras or an omnidirectional camera to take viewers into any direction, and pull them into the experience. It gives the viewer control over the view direction, inviting them to engage with the video. Both Facebook and YouTube support 360° video, allowing a blend of media formats for your audience.
Any business or non-profit that ties their work to empathetic marketing, or taps into the emotions of their viewers can benefit from 360-degree social video content. It allows marketers to showcase an exciting glimpse into their brands and the experience potential.
4. Even better — 360 LIVE video
Taking it one step further, live 360-degree videos makes viewers feel like they're right there, watching the action take place. With the right camera, even small businesses can make live 360-degree video possible, and pull audiences in to live events, product launches, locations, and more.
5. Looping video
Depending on the length of your video and the platform, your video may automatically loop. Twitter (under 6.5 seconds), Facebook (under 30 seconds), and Instagram (three to 60 seconds) will loop short videos. What looping video allows is creative snippets in a short amount of time that auto-plays to grab your audience's attention.
A quick, positive impact can gain immediate likes and create viral content.
6. Video GIFs
Gifs are like a mini-reward for clicking on a link. They're short, often creative, and can quickly boost engagement on a post or tweet.
They can also be compelling without being goofy, like in this gif from a 2015 Mashable story on sharks:
7. Augmented reality
Facebook is tapping into the market for silly selfies with its acquisition of the video filter app, Masquerade. By downloading the MSQRD app and logging into Facebook, users can upload videos and live videos directly to Facebook. This could be the first step into Facebook paving the way for marketers to engage with augmented reality apps to drive engagement on content.
For now, it could just be fun to show some funny filters or face-swapping of your company's team members and wait to see what the platforms come up with.
Tap your apps to tap into an enthusiastic audience
Social video only continues to rise in popularity as the networks vie to win audiences with the coolest take yet. These are the social video formats you shouldn't hesitate to try now.
Let's see what new formats 2018 brings.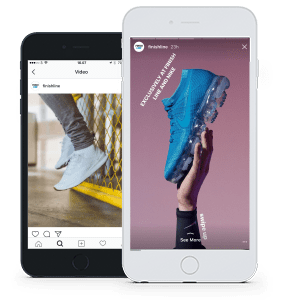 Instagram Publishing With Falcon.
Plan, create, and collaborate on your Instagram strategy, including stories, videos and images.