Every picture tells a story. With respect to Instagram marketing strategy, every picture tells your brand's story.
Instagram's combination of striking visuals and huge user base provides brands the opportunity to creatively engage and inspire their followers. If your brand isn't active on Instagram you're missing out on the enormous opportunities offered by an enormous audience.
Here are the top 5 reasons you need to craft a strong Instagram marketing strategy.
 1. Your audience is here
Over 700 million people around the world use Instagram. 59% of users are between the ages of 18 and 29, according to Pew Research. Also according to Pew, 31% of Instagram users earn more than $75,000. Put it together and you have the marketer's dream: attention from millennials with disposable income. In short, your customers are on Instagram and if you're not active, you miss connecting with them.
2.  Influencers and your brand – a symbiotic relationship
Influencers help your brand while helping themselves. There are a variety of social influencers on Instagram from which to choose based on your target audience. Hard-working Instagramers from all walks of life have made a name for themselves. Many social influencers are more than willing, whether in exchange for free product or actual promotional consideration, to put your brand in front of their audience as long as it abides by the FTC's ad-influencer guidelines.
Think of influencer marketing as the digital version of the classic concept of word-of-mouth recommendations which makes it an incredibly powerful sales tool. According to influencer marketing platform MuseFind, 92% of consumers trust an influencer endorsement over a traditional advertisement or celebrity endorsement.
Don't be deterred that Instagram's visual format naturally lends itself as the home of fashion and beauty brands. Even if you're not in those industries, you can still find influencers that will be compelling spokespeople for your brand.
3.  Instagram Stories are exploding
Over 200 million people now use Instagram Stories every day which surpasses Snapchat's reported 161 million daily active users. Personalized stories strike an emotional chord while allowing marketers to differentiate themselves. Nothing helps to humanize a brand than online video sharing.
With so many active users, Instagram Stories are generating big results for brands. As an example, a Story from Nike generated 800,000 views in 24 hours. According to Marketing Land during a test period where several brands got to try out the new feature, "Almost a month after the launch, 15 to 25 percent of the people who see a link in an Instagram Story are swiping on it…"
This level of performance is also attractive to influencers considering they want to be influential in front of the broadest audience. According to TechCrunch, influencer marketing platform TheAmplify's CEO, Justin Rezvani, says "On average our influencer community is seeing 28 percent higher open rate on Instagram than Snapchat.'"
Stories also have the potential to boost a brand's overall Instagram performance. Viewers taken by a Story are likely to make their way to an Instagram users' (or brand's) profiles. The outcome is heightened engagement on past posts or indirect traffic to your company page.
4.  Put wind in your sales
The problem with Instagram used to be its lack of links anywhere on the platform besides the bio section. You can now use Instagram's 'Shop Now' button to link a product; however, it's still a good practice to add a link to your bio so potential customers have easy access to your website. Also, it's always a good practice to write 'link in bio' on posts featuring your products.
Instagram's 'Shop Now' button, is an appealing option for brands and customers. According to Marketing Land, "During the test period, Instagram saw that, on average, 19 percent of the people who tapped to reveal the product information then proceeded to tap the link to the brand's site."
The ability to shop without leaving Instagram caters to impulse buys and makes the purchasing process simple. Traditional ads spark interest — "Shop Now" allows you to immediately act on that interest.
5.  An advantageous way to showcase your ads
Instagram advertising can extend your brand's reach, strengthen value, and generate higher conversion lift. According to two Instagram Case Studies, Apartments.com saw a 2.5x return on ad spend using the platform and Sprite Mexico garnered an 18 point lift in ad recall.
Successful social advertising and ROI rides largely on overview and approval processes to ensure each ad plays a considered role in a bigger picture. For that you need a platform content calendar. In the case of Falcon, you can manage all Facebook and Instagram promoted and organic posts in the Publish section. Like Facebook's Power Editor, Falcon allows you to create ad sets and campaigns, and then publish them directly to the networks – ensuring all stakeholders have clarity.
To be a successful marketer today, Instagram has to be part of your social media marketing strategy. The platform provides you a variety of ways to reach, engage and inspire your audience.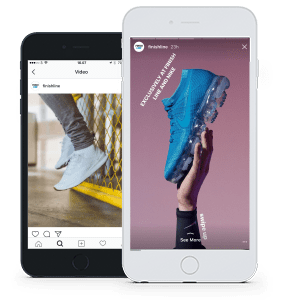 Instagram Publishing With Falcon.
Plan, create, and collaborate on your Instagram strategy, including stories, videos and images.