User generated content is not a new concept for marketers. Even in pre-web times, companies would encourage fans to create and submit brand-related content (Fun fact—the Oscar Meyer Weiner song is actually the product of a brand jingle contest.)
The rise of social media made user generated content way, way easier—easier for fans to create and submit, easier for brands to find, showcase, and use as a marketing tool. It's now a major part of the marketing repertoire for a lot of brands.
User generated content strategies largely aim to strengthen brand communities. Seeing that other people have taken the time to make their own stuff about a company that you like reinforces your choice to like it, and might encourage you to create your own. And creating content that gets displayed on brand channels increases involvement with a brand. The idea is to create a sort of snowball effect of positive brand sentiment by letting people express themselves with content that ties in with your brand.
A lot of user generated content campaigns have been enormously successful on this front, drawing thousands of fan creations, and spurring excitement and loyalty in the process.  
But now, a few factors are coming together to make user-generated content an even more valuable part of marketing strategies—one that creates not only community and positive brand feelings, but real audience growth and conversions. Here's a look at how this is happening.
Instagram for UGC innovation
Instagram isn't the only place where user generated content is thriving, not by a long shot, but it's a major focus for many of the brands that are driving stronger results with UGC.
First, the audience Instagram has is officially huge now. It now has 400 million users, who post over 80 million photos every day.
Instagram is suited to user generated content—the aim is often to get the most striking, memorable shot you can—which is not a bad goal for advertising photography (assuming it includes a product).
And the line between UGC and influencer content blurs in a good way on Instagram. If you're lucky, the process can go something like this: an influencer features a product of yours organically, you "regram" it(think "retweet" but for Instagram), it connects with your followers, and you reach out to the influencer for even more content creation.  
Fashion at the forefront
One of the principal reasons user generated content has become more valuable is that brands are getting better at incorporating it into the buying cycle: They're taking advantage of user generated content as, essentially, a visual customer testimonial.
It may not be a surprise, but the fashion world is leading the charge in smart user generated content strategies on Instagram. British retailer ASOS is an innovator here. They have a large and devoted following (4.1 million on Instagram), and they're incorporating user-generated content to harness it commercially. Their Instagram features plenty of fans posing in items ASOS carries, tagged #AsSeenOnMe. Their instagram bio has a direct link to a purchase section on the brand's website where you can purchase items featured on their feed (this goes for both UGC and brand images).
Fashion brand Black Milk asks its fans to hashtag the items they're wearing when they post them to Instagram. The purchase pages on their website then have a gallery of fans wearing those items. It's easy to see the value here—highly polished, perfect shots of products worn by models hovering in white space are one thing, but the user generated images give potential purchasers a clearer picture of how something might look on them. Just like people look to product reviews for reassurance that the promise fits the reality, fashion fiends want to be sure that something can work on them in the real world.
(This image is also featured on the product page on Black Milk's site)
And as paid media strategies have gotten more important on Instagram and elsewhere, brands are discovering that incorporating user generated content into their ad campaigns (with explicit user permission) can help them stand out from other advertisers. UK brand Miss Selfridge uses fan shots alongside professional ones to drive traffic via Instagram. And as buy buttons become more widely used on Instagram (and Pinterest, and Facebook, and Twitter), this tactic will potentially have an even greater impact on sales.
Targeted audience growth
It's critical to mobilize existing brand fans to follow you on networks like Instagram. But it's a very different feat to use the network itself as a primary engine of audience growth. Some smart brands are employing user generated content on Instagram as their most powerful tool for building sizable, targeted, and engaged audiences. These audiences have a high likelihood of purchase and can drive revenue growth for the company.
Take, for example, the LA-based jewelry brand Anarchy Street.  User generated content makes up a large share of their Instagram feed. They've built up a following of 128k fashion fans on the network.
They've taken the resources they have—their products and their brand, and used them and Instagram as a key source of growth.
They have beautiful products and a very distinct brand image, and their Instagram, though it relies heavily on user-generated content, reflects that.
By featuring only the best UGC, they can increase not only followers but the desire to be a part of the brand. It allows the company to straddle the line between accessibility and exclusivity—a very valuable space for a fashion brand—as well as helping them grow an audience of targeted followers who are excited about seeing new shots of their products. And all of it for a lot less than traditional media campaigns would cost.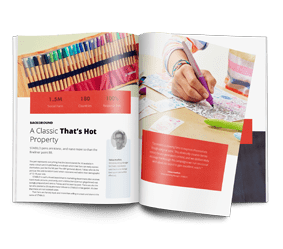 Build an Engaged Community
Learn how STABILO uses UGC to engage with 1 million fans.