Video may have killed the radio star, but it's done some pretty great things for Instagram.
When Instagram video first launched in 2013, users lept on it immediately, uploading over 5 million videos to the network within just 24 hours.
And that excitement hasn't stopped—in 2017, Instagram users spent 80% longer watching videos and watched four times more videos than the year before.
With an audience of over a billion users, that's a lot of video content being consumed.
Instagram obviously sees the value of video for marketers, too—they've been rolling out more stunning new ad formats and features than ever lately.
For instance, Instagram Stories ads have gotten a lot of awesome new capabilities this year, ranging from shoppable tags to interactive carousel ads.
Not only that, but Instagram also appears to be setting up for more video advertising opportunities in the near future. Their new long-form video hub IGTV hasn't announced plans for monetization yet, but when it does it's sure to be a massive opportunity for brands.
All in all, now is a better time than ever to optimize your Instagram video ads. If your goal is to increase ROI, engagement and brand awareness with Instagram video ads in 2019, these are the best practices to follow:
(If you want more strategy advice, try these 5 Tips for Running Powerful Instagram Ad Campaigns. Or, if you're looking to level up your video game on Facebook, give these Best Practices for Facebook Video Ads a shot. Finally, see How Marketers Can Use These 5 New IG Stories Features.)
1. Picture your ad on a smartphone
Instagram began as a mobile app, and it definitely shows. Many of Instagram's features are only available on smartphones, and its layout and design feel right at home in the palm of your hand.
With this mobile-first design in mind, you need to make sure your Instagram video format looks good on a smartphone. That means your Instagram video dimensions should be either vertical (1080×1920) or square (1080×1080)—not horizontal.
Instagram users prefer not to turn their phones to get a fullscreen video experience, which is partly why Stories have been so successful—and why IGTV is focusing on vertical video exclusively.
Mobile-first design also means keeping your Instagram video length short and sweet.
After all, Facebook's research on both IG and FB video ads found that shorter commercials had higher brand recall rates and longer average view times than traditional or mobile-adapted ads:

Source: Facebook IQ
It pays to keep mobile users in mind—so edit your video down to the best bits and shoot vertical footage if you can.
2. Promote your brand in the first few seconds
The same Facebook study we just mentioned made another interesting distinction between traditional and mobile video ads.
Mobile-first and mobile-adapted commercials both got their branding in within a few seconds, while traditional commercials didn't.
The result? Instagram and Facebook users were 23% more likely to remember brands that mentioned themselves within the first three seconds of the video: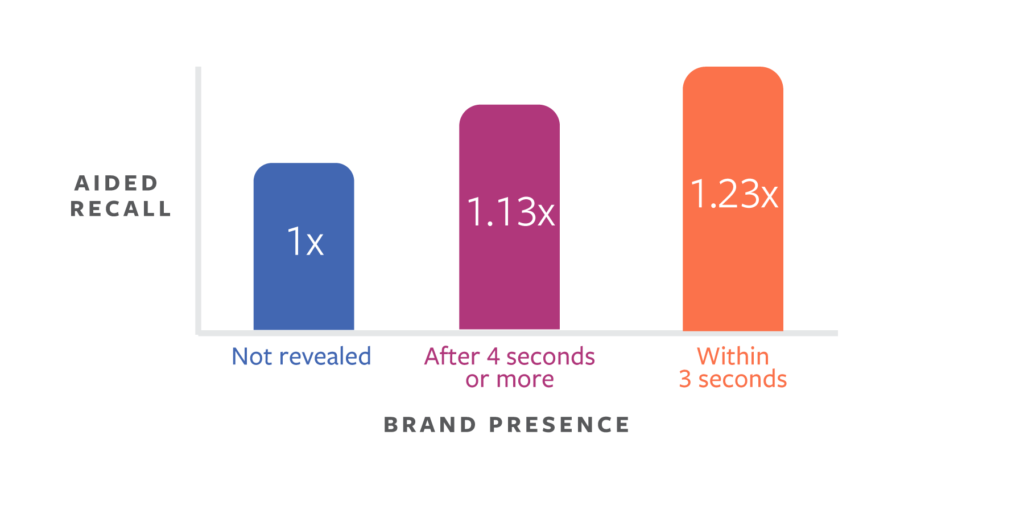 Source: Facebook IQ
The lesson here is pretty clear: mobile viewers on Instagram have limited time and focus to spare, so short videos that get their branding in straight away are significantly more effective at raising brand awareness than longer videos that don't.
3. Optimize your Instagram video settings
If you want Instagram to rate your video ad as high quality (and have it displayed more often to users as a result), we highly recommend following their guidelines for video resolution, video file size, video format, and video settings.
According to Facebook, good Instagram video ads should be as high resolution as possible and avoid any pillar boxing (black bars) on the screen.
As far as file types go, MP4 or MOV are preferred but nearly all mainstream video types should work.
And if you want to get technical, Instagram recommends H.264 compression, square pixels, progressive scan, fixed frame rate, and stereo AAC audio compression at 128kbps or higher.
Also, keep your Instagram video file size down below 4 GB, as that's the maximum allowed. That shouldn't be hard, though, as in-feed Instagram video ads can only be 1-60 seconds long and Stories video ads can only be 1-15 seconds long.
4. Find the perfect Instagram video length

The average human now has a shorter attention span than a goldfish. Source: Disruptive Advertising

In 2015, a study from Microsoft Corp. found that the average attention span was down to only eight seconds—and given how much we're all looking at multiple screens in 2019, that number's probably even lower now.
With that in mind, you need to keep your Instagram video length down to avoid losing viewers who have limited time and energy to pay attention to your brand message.
Facebook has conducted in-depth research on the video ad viewing habits of users on Instagram, Facebook, Twitter and Snapchat to see how viewers drop off over time:
Instagram video ad views drop off more quickly for Stories than for feed ads. Source: Facebook Business

As you can see, feed ads tend to have a somewhat steep drop-off at the beginning and then lose viewers more slowly by the middle of the video.
Stories ads, on the other hand, have a very steep drop-off from the start. This means you need to get your key branding and imagery in front of users immediately when using the Stories format.
Feed ads still need to capture users' attention early on, but they are somewhat more forgiving.
If ensuring that users absorb the full message of your Instagram video ad is important to your campaign, you should focus on keeping the content of your video as short and tight as possible.
Understandably, the longer a video is, the fewer viewers will watch it until the end. Wistia demonstrates this with the following user data:

Shorter videos have higher completion rates than longer ones. Source: Wistia

With that in mind, what's the ideal Instagram video length?
While this depends on how immersive your video is and the type of content you want to present, Facebook Business suggests that you keep any Instagram video ad intended for mobile viewers under 15 seconds long.
Going even further, Facebook's COO Sheryl Sandberg has stated that six-second video ads show "higher brand metrics across the board."
Even if that sounds short to you, give it a shot—you're likely to see higher video completion rates, improved brand awareness and more engagement with shorter video ads.
5. Use captions to add value
By default, Instagram video ads auto-play with the sound off.
Fortunately, Instagram video ads show an icon that says tap video for sound when playing on silent to remind people, and once they switch the sound on, future videos will auto-play with audio on by default.
That being said, you still need to make sure your ads make sense with or without sound.
Any viewers watching on silent can be convinced to switch the sound on if your visuals and captions are compelling enough.
Even if they don't turn the audio on, you can still get your message across and make sure users follow the story you're telling.

You can easily create custom captions for your Instagram video ads to make sure viewers get your message with or without sound. Source: Facebook via Social Media Examiner
It's worth it to put in a little extra effort and upload an SRT file with your Instagram video ad—adding captions has been proven to increase view times by 12% on average.
However, captions aren't available for Instagram Stories ads. You can still add them yourself by putting text in the actual video—but you'll need to be careful with their sizing and placement.
We'll discuss why with our next tip…
6. Don't go overboard with on-screen text
While subtitles make your Instagram video ads clearer and more accessible, you should avoid putting too much text on screen at any one time.
This is especially true for your Instagram video ad thumbnail. If over 20% of the thumbnail image is covered with text, your ad may have its reach limited or not display at all.
Try our handy image-text checker tool on your thumbnail to make sure it's not over the limit before you submit your ad for review.

Video ads on Instagram and Facebook may see their reach limited if over 20% of their thumbnail image is covered with text. Source: Facebook
Fortunately, captions uploaded as a separate file will not count toward this text total, so all the more incentive to make SRTs for your in-feed ads.
As for video ads on Instagram Stories, adding too much text can cover up your profile icon and call-to-action button. With this in mind, leave at least 14% (or 250 pixels) at the top and bottom of your vertical video text-free.
From a design perspective, you don't want your ads to appear spammy or excessively promotional by cramming tons of text in anyway. Let your visuals speak for themselves.
That leads us to our next point:
7. Make your video feel organic
Your Instagram video ads should look organic to users…and we mean that both in the sense that they shouldn't look like paid ads and that they should feel natural in feeds and Stories.
The more production and effects you add to your commercial, the more users' "ad alarm" will go off and they'll ignore your message.
This doesn't mean you need to have a low-quality, unprofessional video. It just means that all you need to make a successful video ad on Instagram is a smartphone and a little bit of creativity.
Here's a great example of an "organic-feeling" Instagram video ad: 
The video feels right at home in a user's Instagram feed, and by the time they realize it's paid content they're already so engaged with it they want to watch to the end.
Apply this strategy to your own videos and you'll see views and engagement soar.
8. Try the full range of Instagram video features
If you're only advertising with in-feed video ads on Instagram, you're missing out. Stories ads in particular have gained a ton of powerful new features in the past few months alone.
For starters, if you're focused on making conversions, try out shoppable tags in your next Stories video.
By adding shoppable tags to your Instagram Stories, you'll display a digital price tag over whatever product you're promoting in the video.
If users tap the tag, they'll be able to buy the product on your landing page or even within Instagram if you've connected a Facebook catalog to your Instagram business profile.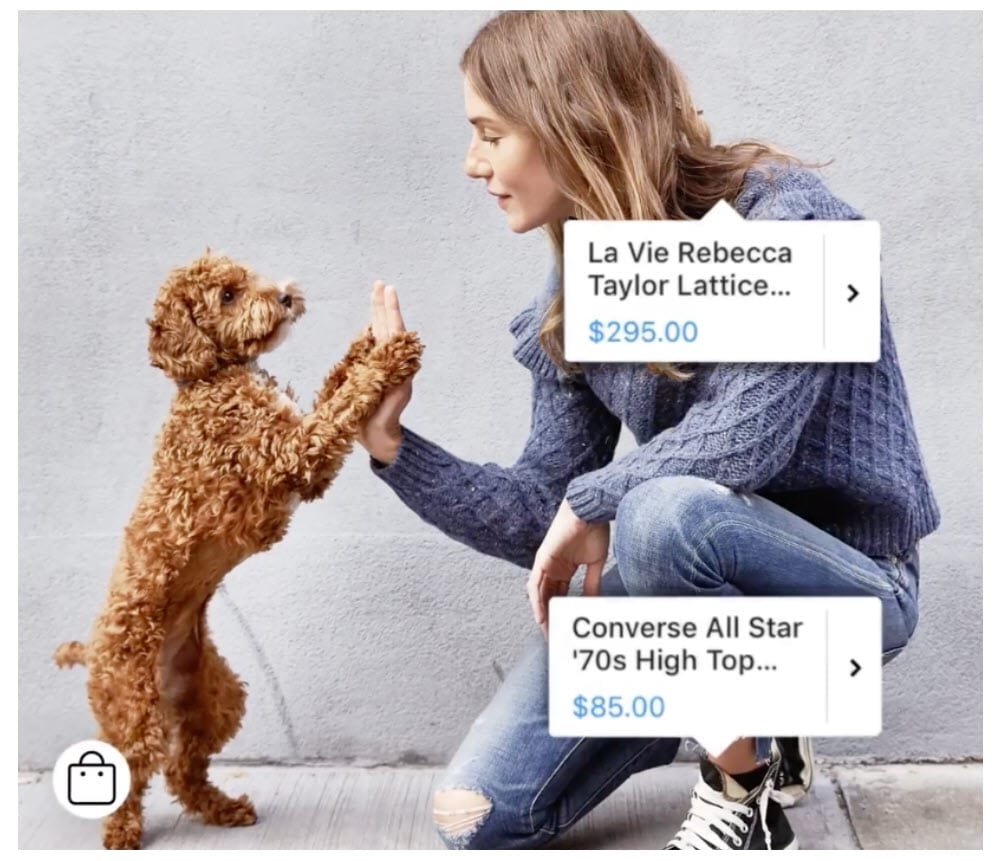 Instagram shoppable tags in Stories ads are a huge advantage for e-commerce brands.

Obviously, this works wonders for conversion rates if you're in e-commerce because it's so easy for consumers to complete their purchase natively.
The carousel format is another Instagram Stories feature you should absolutely try for your next video ad. Instead of a single image or video, carousel ads on Instagram allow you to add up to three swipeable, interactive videos.
Imagine: you're getting three times as much content in front of users for the same ad spend.
Plus, you have the added bonus of letting users swipe through your videos at will, getting them more engaged with your narrative and giving them a sense of control.
If traditional Instagram feed ads haven't been getting you the engagement rate or ROI you're seeking, both of these Stories features could be what you need to up your game.
9. If you've got a CTA in your video, put it in the middle
If you want to encourage users to take an action, do so right in the middle of your Instagram video ad.
Of course, Instagram video ads already have a CTA button that appears at the bottom of users' screens. But if you want to call on them to take an action in your video, the middle of your ad is the optimal time to do it.
Having a CTA at the beginning of your video ad prevents your audience from getting immersed straight away and looks excessively promotional. It also takes up those critical first 3 seconds that you should be using to mention your brand.
Also, you haven't done anything to convince users to take an action yet.
On the other hand, if you put your CTA at the very end of your video ad you'll miss anyone who doesn't watch 100% of the content.
Mid-roll Instagram video ad CTAs are perfect because they catch already-interested viewers at the peak of their engagement. And believe us, the data supports this.
Video hosting company Wistia found that mid-roll CTAs have higher conversion rates (16.95%) than CTAs at the start or end of videos, at 3.15% and 10.98% respectively.

Placing your CTA in the middle of your Instagram video ad will get the best conversion rate. Source: Wistia

10. Pick an appropriate Instagram advertising objective
Instagram video advertising is like life: if you don't know what your objective is, you won't know if you're getting anywhere.
Before you launch your Instagram feed video ad or Stories video ad, make sure your campaign has a clear goal.
When you go to Facebook Ads Manager to set up your Instagram video ad campaign, you may feel overwhelmed by the number of objectives available, from App installs to Store visits.
Ads Manager gives you plenty of options to optimize your Instagram video ad campaigns. Source: Facebook Business

For most Instagram advertisers, though, there are four key objectives that you'll likely want to focus on:
Brand awareness: optimizes your campaign to make as many Instagram users remember your brand as possible. More effective than reach if this is your goal.
Traffic: gets as many clicks to your landing page as possible within your budget.
Video views: optimizes your campaign to show your video ads to people who are most likely to actually watch them. If getting the message in your video out is your main focus, this is the preferred option.
Conversions: gets you as many conversions as possible at the lowest cost. If you're running video ads to promote sales of a product or service directly, this is your best bet.
So, first decide what the motivation for your Instagram video ad campaign is.
If you want to get your brand name out there, go for Brand awareness. If you want to drive as many people as possible to your website, shoot for Traffic.
If getting users to watch the video itself is the most important thing, go for Video views. And if you're trying to sell something directly through your feed ad or Stories ad on Instagram, Conversions are definitely the way to go.
11. Just do it!
Tons of marketers miss out on the huge opportunities that Instagram video ads provide because they don't think they're up to the task.
"I don't have a videographer! Or a video production team! Or even a camera!" they exclaim.
The good news is, it's no longer the 90s. If you've taken a video at the zoo, you already have the skills needed to shoot an ad. And you've probably got an HD camera and access to sophisticated editing software in your pocket right now in the form of a smartphone.
It may take a little practice and some trial and error, but if you have a good idea for an Instagram feed or Stories ad, just make one.
Worst case scenario, you'll learn a lot about how to launch your next video ad campaign. Best case scenario, you'll see way more engagement, clicks, and brand recognition than a traditional image ad could provide.
Plus, you'll have made an awesome video ad. So in the words of acclaimed actor Shia LeBeouf: