Earned media is one part of the marketing trifecta brands have no direct control over. Yet, measuring its value is critical to quantify your social media marketing campaigns' return on investment (ROI).
But first…
What is earned media?
Earned media is any marketing activity that's not on your brand's dime and doesn't involve PR or marketing effort. Basically, any attention that's earned — see what I did there? — from your audience organically without your monetary input counts as earned media.
Earned media is essentially word-of-mouth marketing and its digital equivalent. And because consumers trust recommendations from an actual person more than the word of brands and marketers, you definitely should be paying attention to earned media.
Earned media includes:
News articles and coverage
Word-of-mouth promotion
Influencer mentions
Customer testimonials
Ratings and reviews
Social media mentions
Likes, shares, retweets, and reposts
If there was any question, yes, social media engagement is earned media gained from your owned channels. Earned media value is yet another way you can measure your social media ROI.
Why earned media is important.
Unless you operate in a relatively nascent industry, the market is saturated with plenty of products like yours. Every brand puts out content, ads, and more just as you do.
Put yourself in your end user's shoes for a minute.
Isn't there a whole load of information to trawl through just to find the perfect product or service for yourself?
On the other hand, if a friend has done all the work and vouches for a product, wouldn't you skip the research stage altogether and go with their recommendation?
This is exactly why earned media is so important.
Having users who can publicly vouch for you gives you third-party credibility and increases buyer intent more than any landing page showcasing your best features ever could. Your brand advocates are essentially doing your marketing legwork for you.
Earned media improves brand awareness and puts your brand in front of more eyes, getting you attention from potential customers. One of the best examples of the importance of earned media is how, back in 2017, Eggo garnered over $200,000 in earned media value just by being featured in Netflix's Stranger Things.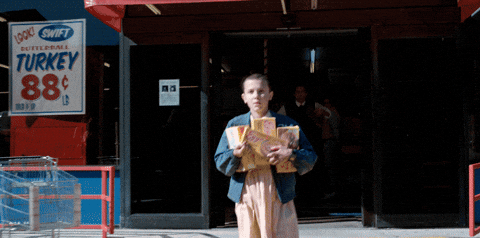 Since you have no control over what is said about your brand online, earned media is no easy feat. You may not own the narrative yourself, but earned media should still be an essential part of your marketing strategy.
How to calculate earned media value.
Measuring earned media value is clearly essential to understanding your social ROI. However, do note that no single formula can give you the whole ROI story.
Measuring earned media value alone is not enough, just like calculating engagement rate alone is insufficient.
Earned media value is one among several metrics you should track to get the complete picture.
There's also no standardized formula to calculate earned media value, which is why some marketers don't set much store by it. However, here's one popular method you can use:
EMV = Engagement metric x equivalent CPM
For instance, if the metric you're going by is impressions, you'd multiply it by the equivalent cost per thousand impressions you expect.
You can always multiply this value by additional metrics depending on your requirements. This lack of a standard formula is why marketers recommend measuring earned media value in tandem with other metrics such as brand sentiment and share of voice.
Falcon Benchmark also shows you the earned media value of social media content using dollar valuations furnished by Social Index. It uses a wide range of data points whose values are updated daily to reflect the changing nature of social media.
5 ways to improve your earned media value.
While you don't have direct control over earned media, you can still follow some strategies to improve its value.
1. Create shareworthy content.
Content is king, after all.
The more high-quality, valuable content you create, the more chances there are of someone finding it helpful and sharing it with their social media audience.
Build a solid content strategy so you have a steady stream of impactful content that garners high engagement and inspires your target audience to share it with their networks.
2. Share user-generated content.
Keep the buzz going by sharing third-party mentions on your social channels. This strategy combines both owned and earned media and helps you use your own channels to show your audience how people just like them are enjoying your product(s).
 

 

View this post on Instagram

 
3. Work with industry influencers.
Did you know that on average, brands earn $5.20 for every dollar they spend on influencer marketing?
Influencer marketing is a powerful tool you can use to increase earned media value and boost sales.
While it does involve monetary input from your end, the traction and engagement you gain from the shared content are earned media. Find the right influencers and start reaching out to them today!
 

 

View this post on Instagram

 
4. Build a community of brand advocates.
Brand advocacy is the best way to achieve third-party credibility online. Make your customers advocate for you by delivering a quality brand experience, stellar customer support, and maintaining customer satisfaction.
 

 

View this post on Instagram

 
Apropos of nothing, 90% of G2 users do say they love Falcon's quality of support. Do with that information what you will. 🤓
5. Encourage customer reviews.
Sure, you don't get to control the narrative on review sites, but you could encourage happy customers to review your product(s) on sites related to your industry.
Incentivizing reviews may not be the best route to get unbiased reviews — and many review sites actively discourage this — but ask your customers nicely, and they just might write you a glowing review.
 

 

View this post on Instagram

 
Ready to get started?
The investment you make in earned media may not be monetary, but the returns surely are. Love it or hate it, earned media value is undoubtedly one way you can calculate ROI and measure the impact of your social media team on the business bottom-line.
Even if you don't set store by the actual dollar value of earned media, the strategies to improve it will help you see great returns in terms of brand awareness, third-party credibility, and customer advocacy.
Now go out there and get that coin! 💰